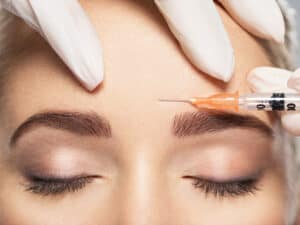 Botox is a popular cosmetic injectable known for its anti-wrinkle properties. Our certified plastic surgeon has offered Botox for decades and knows how to expertly inject the neuromodulator to reach your desired results. Dr. Arie Benchetrit has helped many patients reduce lines and wrinkles with Botox and often hears the same questions during consultations.
1. Are Botox Injections Safe?
Botox has been used since the late 1980s for cosmetic and medical purposes. Made with botulinum toxin type A, Botox is considered safe and effective, even with repeated use. Most patients enjoy smoother skin with fewer lines and wrinkles with little to no side effects. A 2020 review of Botox treatment published in Advances in Dermatology and Allergology found that most adverse events were benign. Patients who experienced these side effects reported they appeared a few days after Botox treatment, were limited to the treated area and typically disappeared without further treatment.
Adverse reactions that were cosmetic or functional in nature involved responses from different muscles than the treated area or misplacement of botulinum toxin. However, these complications are mitigated by choosing a certified plastic surgeon or medical professional trained to provide Botox treatments. Never get Botox at a hotel or party to save on costs, as this can increase the risk of poor results and side effects.
2. How Does Botox Work for Wrinkles?
Botox is made with a purified neurotoxin called clostridium botulinum bacteria. The gel is injected into the forehead, between the brows or other areas of the face and neck to smooth dynamic wrinkles that form after years of repeated facial expressions. Botox targets these muscles and temporarily immobilizes them to smooth the overlying skin. Botox works best on wrinkles that form due to frowning, squinting, smiling and other muscle movements.
3. What Can Botox Do?
Botox can smooth lines and wrinkles and improve various health concerns, such as chronic migraine, hyperhidrosis (excessive sweating), cervical dystonia, bladder dysfunction, lazy eye and eye twitching (blepharospasm). The injectable is most often used for forehead lines, vertical lines between the brows and crow's feet on the outer corners of the eyes. Dr. Benchetrit also uses Botox for smile lines around the nose and mouth, lip augmentation (called the Botox lip flip), neck bands and the "Botox Browlift" to elevate sagging eyebrows.
4. When Does Botox Wear Off?
Visible results typically take three to five days to appear as the creases and folds on top of the treated muscle smooth over. Full results settle in around seven to 10 days after Botox treatment and often last three to four months. However, each patient is unique and may respond differently to Botox. Some patients may enjoy their results for less than three months before additional treatment is necessary, while others may have effects that last closer to six months.
5. Where Can Botox Be Injected?
Only a qualified healthcare provider should inject Botox to ensure patient safety and effective results. Botox can be injected into the forehead, around the eyes, eyebrows, sides of the nose, lips, mouth, neck and other areas.
Dr. Benchetrit understands many patients have questions and concerns about Botox before their treatment and uses the Vectra 3D photography system to simulate results. The Vectra system uses 3D images of the patient to preview their potential results with injectables and other cosmetic treatments and procedures.
If you're interested in Botox, contact Dr. Benchetrit in Montreal and Pointe Claire, Quebec, at (514) 700-5233.