Montreal Plastic Surgery
Dr. Arie Benchetrit
Creating a New You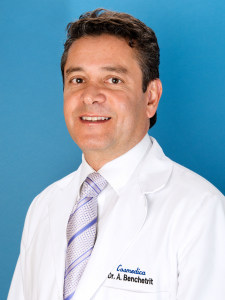 Dr.Arie Benchetrit
– Plastic Surgeon
– Montreal
Welcome to the practice of one of Montreal's finest plastic surgeons, Dr. Arie Benchetrit. A Fellow of the Royal College of Surgeons of Canada in both general surgery and plastic surgery, Dr. Benchetrit has been practicing since 1990. His years of experience marrying science and artistry to create beautiful and natural-looking results have earned him a loyal and devoted following amongst Montreal plastic surgery patients. Dr. Benchetrit's work has been described by his satisfied patients as "amazing," "life-changing" and "a dream come true."
Dr. Benchetrit uses techniques and technologies that produce minimal scarring and require little downtime. He is also one of a small group of surgeons in Canada to own the Vectra 3D photography system, which allows his patients to "preview" their results before making any decisions about surgery. Dr. Benchetrit closely consults with every surgical candidate to explore all available options and recommend a treatment plan suited to the person's individual needs and goals.
A Note from Dr. Benchetrit
Through our website, we genuinely hope that you will discover more about our practice, the many cosmetic enhancement procedures and treatments available to you, and other useful information that will answer questions you might have about plastic surgery and the services we provide. We would also like to hear from you, so please contact us via telephone at (514) 695-7450 or email with any questions, comments, concerns or to schedule an appointment.
Wishing you health and happiness,
Dr. Arie Benchetrit
---
A dream come true! I can hardly believe it…..after 25 years of wishing and hoping my dream became reality. I finally went and had abdominoplasty and liposuction….*
Vectra 3D Photography
Dr. Benchetrit is one of the very few surgeons in Canada to own the Vectra 3D photography system. This revolutionary device can take 3D photos of the patient's face breasts or body and can simulate the results of the planned surgery on a computer screen. For rhinoplasty surgery this allows the patient to decide what degree of change he or she desires to the different parts of the nose. For a patient considering breast implants or a breast lift, she can visualise a simulation of her surgical results according to the size and shape of the implants she has selected. The Vectra 3D photography device makes it easier for the patient to make his or her aesthetic decisions and, by giving a "preview" of the final result, takes much of the worry out of the process. Read more.

---
*Testimonials found on Plastic Surgery Montreal by Dr. Arie Benchetrit have been sent to us by actual customers and may not reflect the typical client's experience. These testimonials are not intended to guarantee that all patients will achieve the same or similar results. The testimonials are meant to be a showcase of some of the very good results our practice has produced, and are not meant to convey that every patient will have a similar experience.
2019 Trottier Symposium – McGill University
It was a real pleasure to be a guest panelist at the roundtable discussion during the Trottier Symposium ''Longing for Longevity'' organised by McGill University. Our host was Dr. Joe Schwarcz, director of McGill's Office for Science & Society. The other panelists included Dr. David Sinclair, a Harvard University geneticist with a world-renowned expertise on the biology of aging, psychologist Dr. Laurie Betito, heard on CJAD, and the inimitable Dr. Ruth Westheimer, the most famous sex therapist in the world. Dr. Ruth had me alternatively laughing and squirming for the 90 minutes, an experience I will never forget! Please click on this link to see the video of the roundtable discussion.