Neck Lift Surgery in West Island, Montreal
---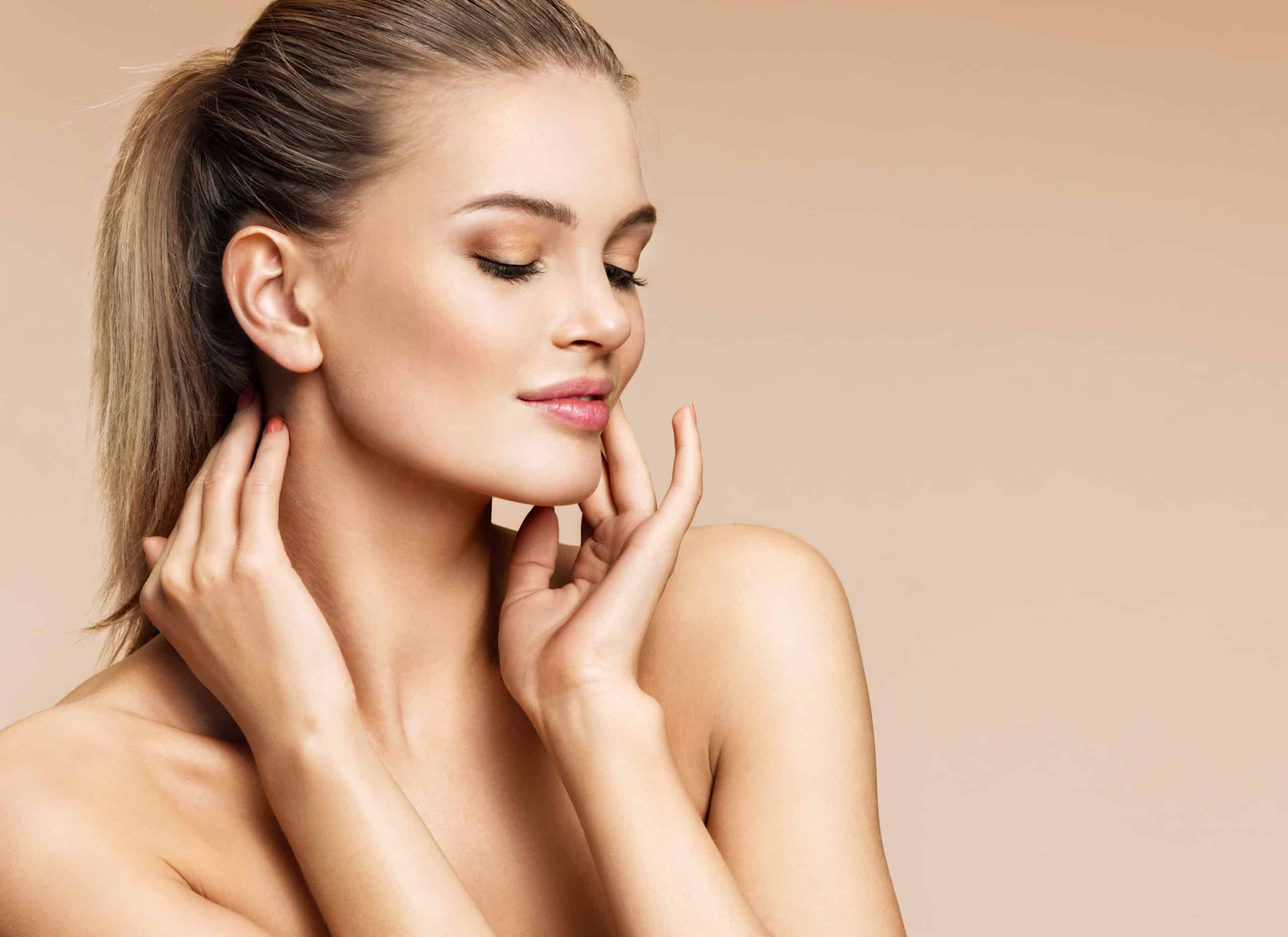 Length: 1 ½-2 hours
Anesthesia: general
In/Outpatient: outpatient
Side Effects: swelling, bruising, numbness
Risks: bleeding, infection, need for revision
Recovery:


Return to work: 1 weeks

Light exercise: 1 week

Swelling completely resolves: 4-8 weeks
Before and After Photos of Neck Lifts
The neck is vulnerable to the effects of aging, namely the accumulation of saggy, loose skin and excess fat. Neck lift is designed to tighten loose, sagging skin on the neck and to redefine the jawline and the angle between the neck and jaw. If you are embarrassed about your fleshy neck, jowls, neck bands or "turkey wattle," neck lift might be right for you. Dr. Benchetrit is a skilled neck lift surgeon in Montreal who has years of experience with the procedure. Consider scheduling a surgical consultation with him to discuss the procedure in more detail and determine whether you are a suitable candidate.
The Neck Lift Consultation
The neck lift consultation is an opportunity to discuss your expectations of surgery and the experience itself. Dr. Benchetrit will ask you to describe what you don't like about your neck's appearance; he will also inquire about your medical history, health status and any previous surgeries. It's crucial for you to be as honest and forthcoming as possible when discussing your physical health and motivation for seeking surgery.
When he has decided that you are a good neck lift candidate, Dr. Benchetrit will explain the surgical options in detail., covering how you should prepare in the weeks leading up to your procedure, what the day of surgery will be like and what to expect during your recovery.
Vectra 3D Photography
Dr. Benchetrit is one of the very few surgeons in Canada to own the Vectra 3D photography system. This revolutionary device can take 3D photos of the face and neck and then simulate the results of the planned surgery on a computer screen. This makes it easier for the patient to make her decision and, by giving a "preview" of the final result, takes much of the worry out of the process.
Neck Lift Techniques
Dr. Benchetrit uses several neck lift techniques, and chooses his specific approach based on the condition of your neck and your needs. Dr. Benchetrit specializes in a technique called the "Suspension Necklift." This procedure, first described by a New York plastic surgeon, is among the most effective necklift surgeries available. It uses permanent suspension sutures placed deep in the neck tissues that act like "hammocks" to fully suspend the sagging muscle and skin for a very long time. Dr. Benchetrit has performed many of these procedures and is one of the few Canadian plastic surgeons to have specialized in this technique. For this reason, he receives referrals from doctors and patients far and wide specifically for this surgery.
Dr. Benchetrit will usually begin by making a tiny incision behind each of your earlobes, and an additional incision underneath your chin. He will usually start by removing all the excess neck fat by liposuction and then he will tighten a layer of neck muscle called the platysma and suture it into place to reverse any sagging. He will then place the suspension sutures that dramatically "square off" the neck contour and redefine the jawline. Excess skin is then removed and the wounds closed with dissolving sutures.
If you have elastic, supple skin with localized fat deposits, you may not need a full necklift. In these cases, Dr. Benchetrit may simply use liposuction to remove the excess fat.
Dr. Benchetrit focuses on minimal scar surgery, so you can rest assured that your scars will be as inconspicuous as possible. He can also recommend a protocol of "scar helper" products, such as special dressings and ointments, to minimize the appearance of your scars.
Neck lift can be combined with another facial plastic procedure, such as facelift, eyelid surgery, brow lift or facial filler treatment.
The Day of Surgery
Neck lift is performed on an outpatient basis at an accredited surgical facility or at the Lakeshore Hospital. When it is time for your surgery, an anesthesiologist will administer medications to help you sleep comfortably through your neck lift. The surgery lasts one-and-a-half to two hours and you will not feel anything during this time. When you wake up after surgery, you'll relax in a recovery suite before going home. You will need to arrange ahead of time for a caretaker or loved one to drive you home from the surgical center and get you comfortably situated. It's a good idea for the person to stay with you for the first day or two of your recovery.
Recovering from Neck Lift
Your neck will be swollen, bruised and a little tender after surgery. For the first few days of your recovery, you should rest as much as possible, with your head and neck elevated and still. You should not move your head side to side, but instead move your whole body to turn. Do not bend, strain or lift anything heavy while you are recovering. The swelling and bruising will subside over time and you will slowly get your energy back. Dr. Benchetrit will see you for several follow-up appointments and he will advise when it is safe to return to work, exercise and other activities.
Neck lift recovery varies by patient; in general, patients can return to work and light exercise after one week. Results of the surgery are immediately visible but it takes four to eight weeks for all swelling to resolve and up to six months to see the final results.
Why Choose Dr. Benchetrit For Your Surgery?
Dr. Benchetrit is an experienced plastic surgeon who has performed hundreds of necklifts with very good results. He is board-certified, familiar with the latest technologies and techniques, and has obtained a very high degree of satisfaction for his patients. He is also one of the few Canadian plastic surgeons who specialize in the suspension necklift. His hospital affiliation allows him to provide his patients with a safe environment in which to have this complex procedure. Dr. Benchetrit spends a lot of time in the consultation process explaining the different options and helping the patient select the right procedure(s) for their desired result. Because his clinic offers all of the non-surgical and surgical face and neck procedures, Dr. Benchetrit can give you an unbiased, objective treatment plan that will fit your goals and budget. With the help of the Vectra 3D photo system, patients can "preview" the results of their surgery on a computer screen to help them decide if this is exactly what they want.
Schedule a Consultation
Are you embarrassed about your "turkey wattle" neck or loose skin underneath your jawline? Neck lift surgery can help. Contact Montreal plastic surgeon Arie Benchetrit at 514-695-7450 to learn more about neck lift and schedule your personal consultation.

Frequently Asked Questions about Necklift
Q: What will a neck-lift do for me?
A: A Neck Lift is also known as Cervicoplasty (a removal of excess skin), or Platysmaplasty (alteration of neck muscles), depending on what is being done. A Neck Lift improves the visible signs of aging below the chin and jaw line, such as:
Excess skin also known as the "turkey waddle"
Excess fat deposits that can cause a "double chin"
Lost muscle tone in the neck
As with a Face Lift, the goal is to restore a youthful, relaxed appearance by reshaping and adding volume to the face.
---
Q: Will the results of my neck-lift be long lasting?
A: It may take several months for swelling to fully dissipate and up to 6 months for incision lines to mature. Life-long sun protection will help to maintain your rejuvenated appearance by minimizing photo-aging or sun damage. In addition, a healthy lifestyle will also help extend the results of your rejuvenated, more youthful appearance.
---
Q: What is a neck lift?
A: Neck-lift plastic surgery may be performed a variety of procedures, depending on the individual. Three possible neck-lift procedures may include:
liposuction
cervicoplasty
platysmaplasty
Typically, a neck-lift will include liposuction to remove fat. Cervicoplasty may be included to remove excess skin, and platysmaplasty to remove or tighten neck muscles: a process that gets rid of unwanted band lines. These procedures are described later in this article.
A neck-lift may also be part of a combination treatment plan, in conjunction with a forehead lift, facelift, or eyelid surgery.
---
Q:Am I a candidate for a neck-lift?
A: There is no ideal age for neck-lift surgery. Candidates may range from teenagers to octogenarians. People who suffer from certain diseases may be excluded from treatment. Talk to Dr. Benchetrit about your goals and expectations, and to determine if you would be a good candidate. Dr. Benchetrit will also review your medical history and the risks associated with the procedures to create a treatment plan that works best for you.
---
Q: What are the risks of a neck lift surgery?
A: Numbness of the skin occurs often for a few weeks after neck-lift surgery. In rare instances, this condition can be permanent. Other risks include excess scar tissue build up or bruising and puckering of the skin.
As with any plastic surgery, there is a risk of complications related to infection or reaction to anesthesia. You can avoid most complications by selecting the right plastic surgeon and following pre- and postoperative instructions. With proper precautions by the surgical team, complications are typically minimized or prevented.
If you have any questions about neck lift, or other facial rejuvenation procedures, please contact us at 514-695-7450.