Short-Scar Facelift Surgery in West Island, Montreal
---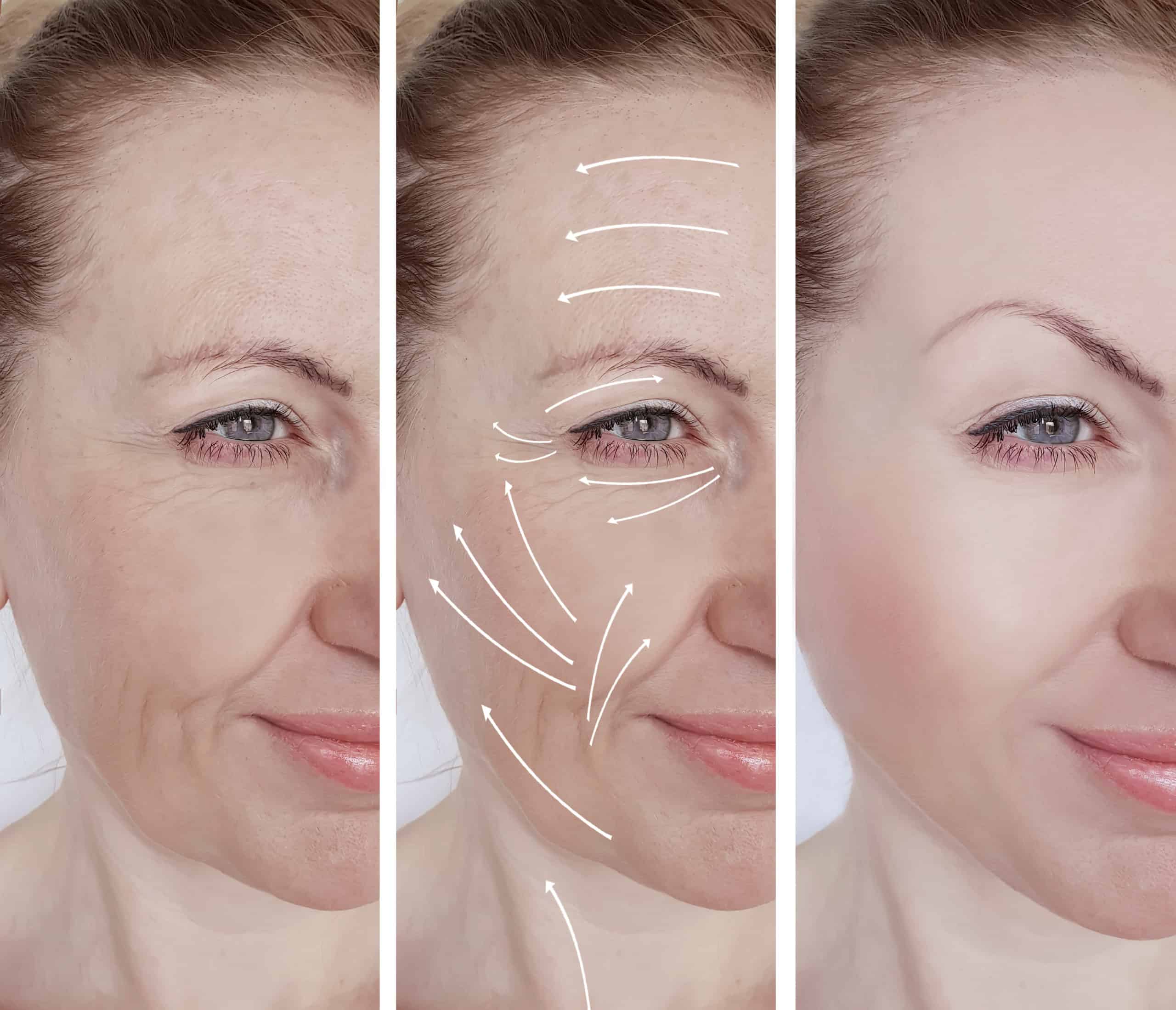 Length: 3 hours
Anesthesia: general or local with IV sedation
In/Outpatient: outpatient
Side Effects: bruising, swelling
Risks: bleeding, infection, anesthesia-related complications, nerve injury
Recovery:


Return to work: 7-10 days
Light exercise: 1 week
Swelling completely resolves: 4-6 weeks
Before and After Photos of Short-Scar Facelift
The short-scar facelift is a twist on traditional facelift. This technique takes advantage of newer instrumentation and a better understanding of facial anatomy to provide patients with the same result as a traditional facelift using an incision that is only one-third as long. The result is a dramatic rejuvenation of the face and neck with a nearly invisible scar that allows the patient to wear her hair "up" or short. Because of the shorter incision, the recovery is quicker and there are fewer risks.
Dr. Benchetrit performs a range of facial rejuvenation procedures at his Montreal cosmetic surgery practice, including traditional facelift and short-scar facelift. However, He has specialized in the short-scar technique for over 10 years now and gets many referrals for this procedure from other doctors and by word of mouth. If you are interested, schedule a consultation with Dr. Benchetrit today.
The Consultation
The consultation is a great opportunity for Dr. Benchetrit to evaluate you for short-scar facelift and educate you about the procedure. He will examine your face for signs of aging and ask you to identify what you would like to improve. Most short-scar facelift patients have sunken or sagging cheeks, jowls and lines/folds around the mouth, including nasolabial folds. Their neck is often marked by loose or dangling skin and/or excess fat. Dr. Benchetrit will also ask you questions about your medical history and any previous surgeries to determine whether you are a good candidate for short-scar facelift. He will discuss all options with you, both surgical and non-surgical, to help you choose the best procedure(s) to achieve your esthetic goals. He will also show you many "before and after short scar facelift" photos of his patients who have undergone the short-scar facelift and other procedures.
Dr. Benchetrit will go over the cosmetic surgery in detail and explain how you can prepare and what to expect on the day of surgery and during your recovery. He will also outline the risks associated with surgery so you can make informed decisions about your care.
Vectra 3D Photography
Dr. Benchetrit is one of the very few surgeons in Canada to own the Vectra 3D photography system. This revolutionary device can take 3D photos of the face and neck and then simulate the results of the planned surgery on a computer screen. This makes it easier for the patient to make her decision and, by giving a "preview" of the final result, takes much of the worry out of the process.
Short-Scar Facelift Techniques
A short-scar facelift differs from a traditional facelift in that it produces a smaller scar and requires less operating time and less recovery. Dr. Benchetrit uses techniques to minimize the appearance of any scarring; he places the incisions inconspicuously and also recommends that you follow a protocol of specific products and dressings to reduce the risk of visible scarring.
Dr. Benchetrit will make the surgical incisions for short-scar facelift in the temporal hair above the ear, extending downward in front of the ear to the earlobe. The incisions may extend behind the earlobe or slightly behind the ear. This shorter incision allows female patients to wear their hair short or up with no visible scar.
Day of Surgery
Short-scar facelift is generally performed on an outpatient basis at an accredited surgical facility. On the day of surgery, you will be escorted into the operating room and given medication to help you relax and sleep during your procedure. The surgery will last several hours, and you will not feel anything. When you wake up after surgery, you'll be taken to a recovery suite, where you will rest and be monitored by experienced nurses. Then, a companion will need to drive you home and get you settled into a comfortable position.
Recovering from Surgery
Your face will be swollen and bruised after your procedure, but these side effects will disappear over time. Most patients have surprisingly little pain but a prescription for pain killers is given to every patient nonetheless. You should rest as much as possible for the first few days of your recovery, keeping your head elevated. Dr. Benchetrit and our team will give you instructions for caring for your incisions and changing your surgical bandages. You will need to return to our office for several follow-up appointments so Dr. Benchetrit can check your healing progress and clear you to return to work, exercise and your normal routine.
Why Choose Dr. Benchetrit For Your Surgery?
Dr. Benchetrit is an experienced plastic surgeon who has performed hundreds of facelifts with very good results. He is board-certified, familiar with the latest technologies and techniques, and has obtained a very high degree of satisfaction for his patients. He is also one of the few Montreal plastic surgeons who specialize in the short-scar facelift. His hospital affiliation allows him to provide his patients with a safe environment in which to have this complex procedure. Dr. Benchetrit spends a lot of time in the consultation process explaining the different options and helping the patient select the right procedure(s) for their desired result. Because his clinic offers all of the non-surgical and surgical facial procedures, Dr. Benchetrit can give you an unbiased, objective treatment plan that will fit your goals and budget. With the help of the Vectra 3D photo system, patients can "preview" the results of their surgery on a computer screen to help them decide if this is exactly what they want.
Schedule a Consultation
Are you curious about rejuvenating your face without a long recovery and visible scarring? If so, contact Dr. Arie Benchetrit at 514-695-7450 to inquire about short-scar facelift surgery.

Frequently Asked Questions about Short Scar Facelift Surgery
Q: Am I a candidate for short-scar facelift?
A: The short-scar lift is most applicable to patients in whom correction of mid-facial aging is the primary concern. Like traditional lifts, the short-scar procedure is designed to lift the cheek, reduce the jowel, shorten the lower eyelid and soften the nasolabial fold. By restoring a more sinuous facial curve the tired, "gaunt" look of age is ameliorated as the more square aged face is shaped toward the more triangular shaped face of youth.
---
Q: How long is the recovery period?
A: Some surgeons believe that the recovery period, including bruising and swelling, is shorter for short-scar lifts compared to more traditional lifts, however this has not been proven. Dr. Benchetrit understands the need for our patients to return to their business and social schedules after about one week.
---
Q: How do I prepare for my short-scar facelift?
A: Because facial rejuvenation must be individualized for each patient, Dr. Benchetrit will evaluate your face, including your skin, and with your assistance, make recommendations as to the specific procedures that will most likely help you achieve your aesthetic goals. A detailed history of medical conditions that could affect your surgery will be obtained including use of medications, vitamins, etc. You will be given detailed written instructions on how to prepare for your surgery including guidelines on eating and drinking, smoking, and avoidance of certain vitamins and medications. If you smoke it's especially important to stop (and also to avoid second-hand smoke) for at least six weeks prior to surgery because of the deleterious effect of smoking upon the healing process.
If you have any questions about short scar facelift, or other facial plastic surgery procedures, please feel free to contact us at 514-695-7450.