Eyelid Lift Surgery (Blepharoplasty) in West Island, Montreal
---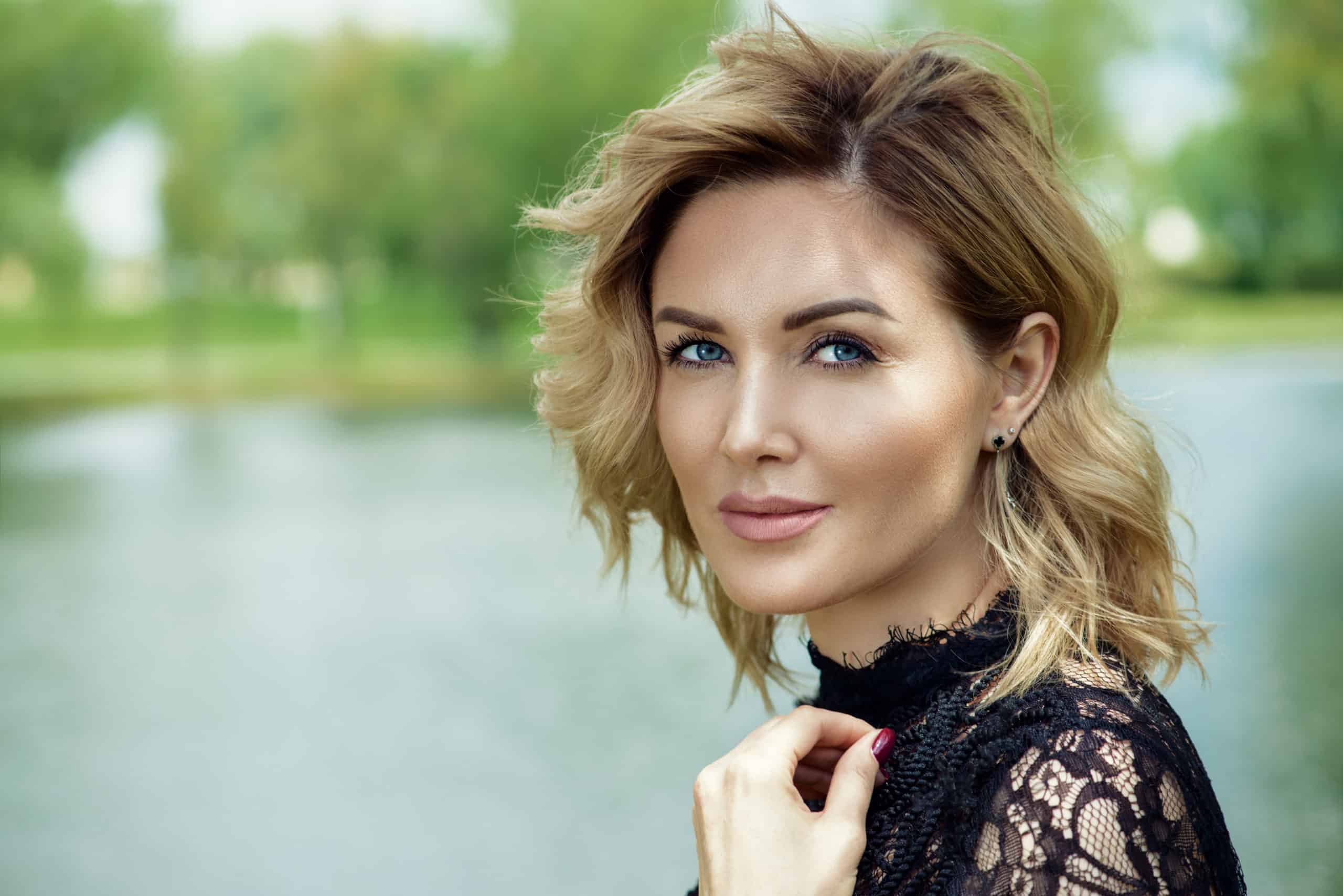 Length: 1-2 hours
Anesthesia: general or local
In/Outpatient: outpatient
Side Effects: bruising, swelling, discoloration
Risks: infection, change in sensation, scarring, accumulation of blood under the skin
Recovery:


Return to work: one week to 10 days
Light exercise: 2-3 weeks
Swelling completely resolves: up to six months
Before and After Photos of Blepharoplasty
Aging and genetic disposition can cause your eyelids to slacken and droop unattractively and cause "bags" to appear under your eyes. Since the eyes are such an integral part of the face, many people feel self-conscious about their aging lids and especially dislike being told that "they look tired," even though they feel fine. Eyelid surgery is designed to tighten the muscles, tissues and skin on the lids, as well as removing the fat that create the "bags," resulting in a more rested and rejuvenated appearance. Dr. Benchetrit works with Montreal blepharoplasty patients to take years off of the appearance of their face.
The Eyelid Surgery Consultation
During the eyelid surgery consultation, Dr. Benchetrit will concentrate on determining whether you are a suitable candidate and educating you about the surgery. He will ask you about what you would like to improve, and he will inquire about your medical history, general health and previous surgeries. There are some medical conditions which could preclude you from qualifying for surgery — for example, certain thyroid problems, high blood pressure, allergies or other eye problems. Dr. Benchetrit will examine your eyelids and have you point out what you don't like about their appearance.
You will have the opportunity to ask Dr. Benchetrit anything you like about eyelid rejuvenation. He will explain what you can expect during and after surgery. He will also give you instructions on how to prepare for this procedure. Some things you may have to do include quitting smoking two weeks before surgery and avoiding certain medications that could increase your risk of bleeding. Dr. Benchetrit will also share with you the many "before and after eyelid lift" photos of his patients.
In some instance, Dr. Benchetrit may recommend that brow lift surgery be performed along with eyelid surgery. This helps completely rejuvenate the area around the eyes.
Eyelid Surgery Techniques
The specific technique that Dr. Benchetrit will use depends on the extent of the excess skin and fat on your eyelids. He will choose the surgical approach that he feels has the best chance of producing your desired outcome.
Upper eyelid surgery targets saggy eyelid skin that can obscure the natural fold of your eyelid and even droop into your line of sight. During upper eyelid surgery, Dr. Benchetrit makes an incision within the fold of your upper eyelid, extending out beyond the outside corner of your lid into the natural creases. He removes excess skin and fat, and tightens the remaining tissue and eyelid muscles. Finally, he stitches the incisions closed with self-dissolving sutures.
Lower eyelid surgery treats puffy, droopy lower lids and bags/dark circles underneath the eyes. Dr. Benchetrit makes the incision just below the lower lashes, or inside the lower eyelid for the "scarless technique." He removes excess skin, muscle and fat and, if need be, redistributes fat to correct "grooved" areas. He may also treat muscle laxity by tightening the muscles. Finally, he re-drapes the remaining skin more tightly and stitches it together with sutures.
Dr. Benchetrit focuses on techniques that leave minimal scarring. In addition to being conscientious of incision placement, he will also suggest several products (e.g., ointments, dressings) that you can use to minimize the appearance of scars after surgery.
The Day of Surgery
Eyelid surgery in Montreal is performed on an outpatient basis. After arriving at the surgical center or hospital, you'll be escorted to the treatment room. An anesthesiologist will administer medication to keep you comfortable during the surgery. The procedure takes one to two hours. When Dr. Benchetrit is finished, you will be taken to a recovery suite where you'll relax for several hours. Then, you will need to have a loved one drive you home and get you situated in a comfortable position. It's best to have your loved one look after you for the first day or so after surgery, so they can tend to your needs.
For many patients requiring uncomplicated eyelid surgery, the procedure can often be done right in our clinic under local anesthesia. This saves considerable costs for the patient and, because no drugs are used, allows them to go home immediately after the surgery.
Recovering from Eyelid Surgery
Your eyelids will be swollen, bruised and puffy after surgery, and your vision may be blurry. Dr. Benchetrit can prescribe pain medication to take if you start to feel discomfort, although most patients do not require this. The bruising, swelling and puffiness will disappear in 7-10 days and you will be able to cover up any discoloration with makeup. Dr. Benchetrit will follow up with you to check your healing progress at several intervals after surgery. He will advise when it is safe for you to return to work, exercise and your normal routine.
Contact Dr. Benchetrit
Would you like to look more refreshed and well-rested on an everyday basis? Consider rejuvenating your eyelids with blepharoplasty. Contact our Cosmedica today at 514-695-7450 to schedule a personal consultation.
Frequently Asked Questions about Blepharoplasty
Q: What is eyelid surgery?
A: Also known as blepharoplasty, eyelid surgery improves the appearance of the upper eyelids, lower eyelids, or both, and gives a rejuvenated appearance to the surrounding area of your eyes, making you look more rested and alert.
Specifically, eyelid surgery can treat:
Loose or sagging skin that creates folds or disturbs the natural contour of the upper eyelid, sometimes impairing vision
Excess fatty deposits that appear as puffiness in the upper eyelids
Bags under the eyes
Droopiness of the lower eyelids, showing white below the iris (colored portion of the eye)
Excess skin and fine wrinkles of the lower eyelid
---
Q: Is eyelid surgery right for me?
A: Eyelid surgery is usually performed on adult men and women who have healthy facial tissue and muscles and have realistic goals for improvement of the upper and/or lower eyelids and surrounding area. You should do it for yourself, not to fulfill someone else's desires or to try to fit any sort of ideal image.
---
Q: When will I see the results
A: The results of eyelid surgery will appear gradually as swelling and bruising subside to reveal a smooth, better -defined eyelid and surrounding region, and an alert and rejuvenated appearance.
---
Q: Will the surgery results last?
A: Your final results will appear within several weeks, but it may take up to a year for incision lines to fully refine. While eyelid surgery can be expected to correct certain conditions permanently, you will continue to age naturally. Life-long sun protection will help to maintain your results.
---
Q: What about bruising?
A: Blepharoplasty is usually associated with some bruising. The location of the bruising is usually in the eyelids operated and area surrounding the eyes. The degree of bruising depends upon surgical technique and the patient's own tendency to bruise. The bruising will gradually fade in appearance and move in the direction of gravity. It is therefore expected that the discoloration from bruising will gradually diminish and migrate down the face in the first few days following surgery.
---
Q: What are the restrictions after surgery?
A: The main restriction is the avoidance of strenuous activity, which includes vigorous exercise and heavy lifting for one week after surgery. Other maneuvers that increase the pressure in the head are also to be avoided. These include straining and bending forward. Otherwise, patients may carry out usual activities.
If you have any questions about eyelid surgery, or other plastic surgery procedures available at Cosmedica, please contact us at 514-695-7450.