Liposuction Surgery in West Island, Montreal
---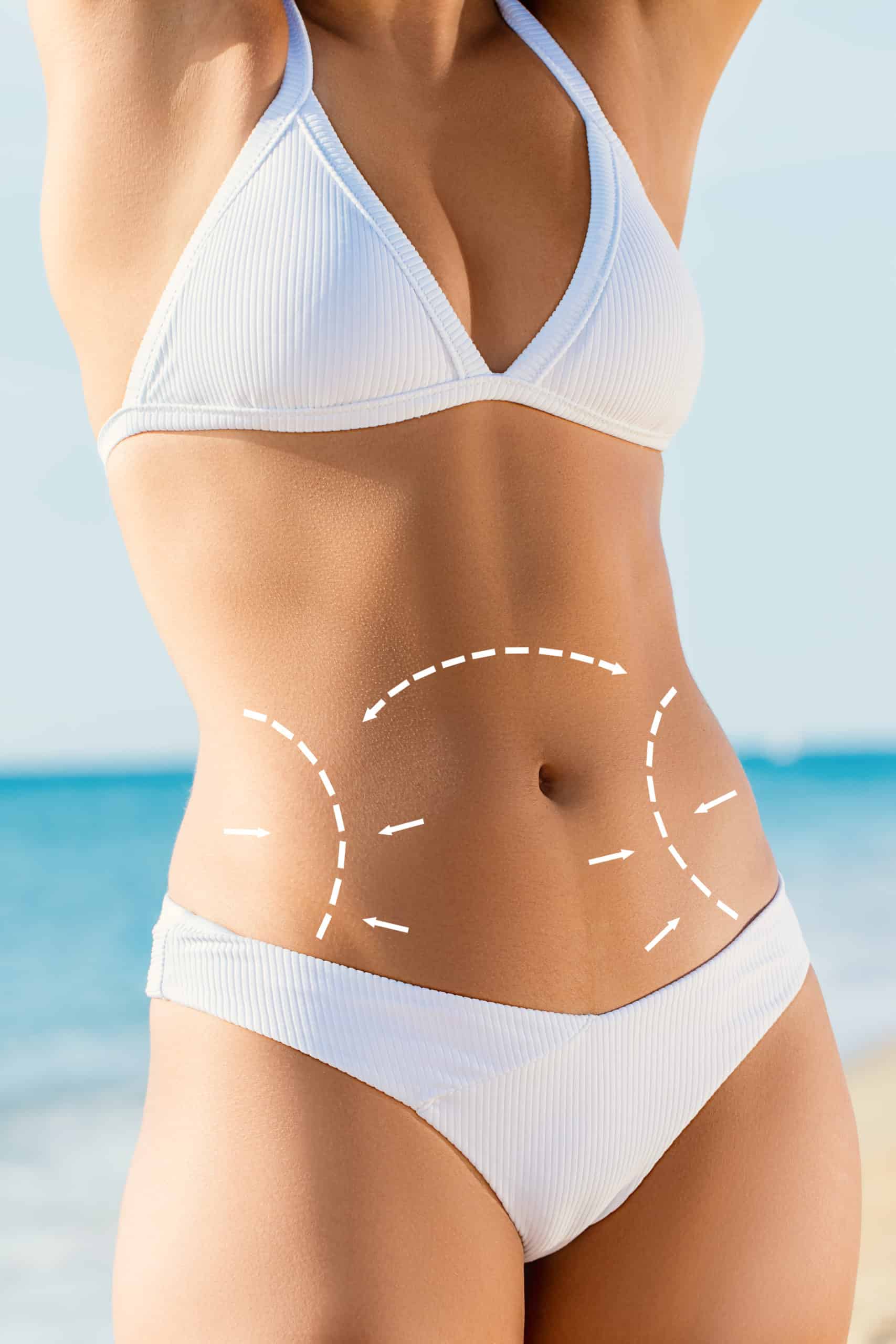 Length: 30 minutes to 4 hours, depending on the number of treatment areas
Anesthesia: local, spinal or general
In/Outpatient: outpatient
Side Effects: bruising, swelling, discomfort, numbness
Risks: bleeding, infection, reaction to anesthesia, asymmetry, skin irregularities that may need correction, blood clot
Recovery:


Return to work: 2-3 days for most patients
Light exercise: 1 week
Swelling completely resolves: 3-6 months
Before and After Photos of Liposuction
Liposuction is a surgical procedure that compensates where diet and exercise fail. Although diet and exercise can lead to weight loss, one cannot choose where the body "burns" it's fat, and so even fit individuals can have pockets of resistant fat. Liposuction specifically targets this resistant fat in "problem areas" of the body, most often the abdomen, waist, upper thighs, knees, buttocks, back, upper arms, neck, etc. The fat cells that are removed do not return and so the results can be permanent. Dr. Benchetrit is a talented Montreal plastic surgeon who artfully contours his patients' bodies through tumescent liposuction, improving curves and slimming flabby areas. If you are having a difficult time toning your waist or thighs, for example, consider scheduling a consultation with Dr. Benchetrit to discuss your liposuction opportunities. Call 514-695-7450 today.
Liposuction Consultation
You and Dr. Benchetrit will do several things during your liposuction consultation. Dr. Benchetrit will ask you to explain why you are seeking liposuction and what you hope to achieve through treatment (common examples include: "I want a slimmer waistline," or "my thighs are too flabby"). After you have identified your problem areas and described your ideal liposuction outcome, Dr. Benchetrit will examine your body and your skin's elasticity. It's important that you have adequate skin elasticity so that the skin will shrink and adhere easily to your new curves after liposuction.
Dr. Benchetrit will also ask about your medical history, any previous surgeries and what your lifestyle is like, to ascertain that you are healthy enough to undergo surgery. It's important to be as forthcoming as possible during your consultation with Dr. Benchetrit, so he can determine whether you are a suitable candidate for the procedure.
Dr. Benchetrit will then discuss the liposuction procedure with you in greater depth, explaining how you can prepare, what to expect on the day of your surgery and what recovery will require. He will also show you "liposuction before and after" photos of previous patients on whom he has performed the same procedure so you can have an idea of what to expect. You will be encouraged to ask questions, and Dr. Benchetrit will give you instructions for preparing for liposuction. These instructions could include avoiding certain types of medications (e.g., aspirin or anti-inflammatory drugs) or refraining from smoking prior to your surgery.
Vectra 3D Photography
Dr. Benchetrit is one of the very few surgeons in Canada to own the Vectra 3D photography system. This revolutionary device can take 3D photos of the body and then simulate the results of the planned surgery on a computer screen. This makes it easier for the patient to make her decision and, by giving a "preview" of the final result, takes much of the worry out of the process.
Liposuction Techniques
To begin the liposuction procedure, Dr. Benchetrit will infiltrate a special fluid into the targeted areas that helps to break up the fat and minimize the risk of bleeding or bruising. This is what is known as the "tumescent technique." He will then make one or more tiny incisions within the natural folds of the skin and insert a small, thin tube called a cannula. He will move the cannula back and forth to break up the fatty tissue and uses suction to remove the fat from the body. The incisions are closed with self-dissolving sutures, and a compression garment is placed to help the tissues settle into their new contours. Dr. Benchetrit uses very fine cannulas which leave tiny scars (3 or 4 mms. long). These scars usually fade and are barely visible after several months.
Other methods of liposuction have been developed, involving lasers or ultrasound to "melt" the fat into a liquid state before it is suctioned from the body. However, no studies to date have shown any long-term benefit with these techniques compared to tumescent liposuction. Because of this, and the fact that these devices add considerable cost and additional risks (i.e. possible burns, larger scars, etc.), Dr. Benchetrit cannot recommend these techniques at this time.
The Day of Surgery
Liposuction is usually performed on an outpatient basis at the Lakeshore General Hospital or at a private surgical facility. Before surgery begins, experienced medical personnel will greet you and put you at ease while getting you ready for your surgery. Then, an anesthesiologist will administer the anesthetic to keep you comfortable during surgery. Surgery can last from 30 minutes to several hours, depending on the extent of the procedure. An elastic compression garment will then be placed on you while you are still anesthetized. You will recover at the surgical facility and then be released into the care of a loved one. You should make arrangements ahead of time to have someone pick you up, drive you home and get you settled.
Recovering from Liposuction
You will likely feel bruised, sore and swollen after liposuction, but these side effects are temporary and will disappear quickly. Dr. Benchetrit will write you a prescription for pain medication so that you are as comfortable as possible during the recovery period. In the days following your liposuction procedure, you will be mobile and able to perform most of your usual activities. Most patients return to work within two or three days. Make sure to get plenty of rest and avoid any straining or lifting in the first few days. Wear your compression garment until Dr. Benchetrit advises you to remove it. He will see you several times to check your healing progress and clear you to return to work, exercise and your normal routine. If you have questions at any time during your liposuction recovery, our team is only a phone call away. The results of liposuction can take a few days or weeks to appear because of the swelling but are clearly visible after five or six weeks. The results continue to improve for up to six months.
Why Choose Dr. Benchetrit For Your Surgery?
Dr. Benchetrit is an experienced plastic surgeon who has performed over 2000 liposuction procedures. He is board-certified, familiar with the latest technologies and techniques, and has obtained a very high degree of satisfaction for his patients. Dr. Benchetrit spends a lot of time in the consultation process explaining the different options and helping the patient select the right procedure for her desired result. With the help of the Vectra 3D photo system, patients can "preview" the results of their surgery on a computer screen to help them decide if this is exactly what they want.
Learn More about Liposuction with Dr. Benchetrit
Would you like slimmer thighs or a narrower waistline? Consider liposuction surgery with plastic surgeon Dr. Arie Benchetrit. Contact our practice today at 514-695-7450 to learn more about the procedure and how it can improve your figure.
Frequently Asked Questions about Liposuction
Q: Can exercise get rid of specific areas of fat without liposuction?
A: Exercise is good for the body in general, and toning the muscles can help fill out loose skin in the vicinity. By suppressing the appetite, and by slightly increasing the metabolism, exercise can assist weight loss. But, unfortunately, there is no such thing as a "spot" exercise, to make the body lose weight in a certain area. Troublesome areas, typically the chin, abdomen, hips or thighs, have a tendency to accumulate fat, and there is so far no way, exercise or pills, to force the body to selectively burn away that fat. To date, only liposuction is effective at accomplishing that.
---
Q: Is liposuction a good way to lose weight?
A: Liposuction is not a method of weight loss. Not only is it less effective for people who are obese, but also the results would be less than ideal, and there are increased risks for the significantly overweight person. The best candidates are those who have attained their ideal body weight, and yet still have one or more difficult areas which do not respond to further weight loss or exercise.
Because fat is lighter than water, a large volume of fat does not account for as much weight as one might think. For example, say a person has 2 liters of fat removed (picture the volume of two one-liter bottles of soda) from the abdomen or the thighs. Clearly, that would make a significant difference in contour and in measurements, yet the weight removed is less than five pounds.
---
Q: Does liposuction take care of cellulite?
A: There is nothing mystical or special about "cellulite", it is just fat, but it is fat located just under the skin, making a rippled look that is quite apparent. Liposuction removes some of this cellulite fat also, but it is difficult to eliminate entirely. Weight loss by dieting is the best way.
---
Q: Will liposuction tighten up loose skin?
A: Liposuction removes fat, and so also removes some of the weight which may be pulling the skin downwards. In this way, liposuction will sometimes permit the skin to tighten a little, but liposuction does not accomplish very much skin tightening on its own. In fact, sometimes, removal of the underlying fat can even make loose skin more apparent. If loose skin is already a problem, liposuction may not be the best solution for the person.
---
Q: Can the fat come back?
A: Fat cannot come back unless one gains weight again, in which case all body areas will share in the weight gain. However, after liposuction, the treated areas have a permanently decreased capacity for additional fat, because so many of the fat cells have simply been removed. But there are still fat cells present, so some gain in that area is to be expected with weight gain.
For that reason, someone gaining weight after liposuction is more likely to notice the increased fat being deposited in other areas that had not been liposuctioned. That is the reason for the incorrect speculation that after liposuction, "some other area will just get fat". Only if one gains weight would an increase occur.
If you have any other questions about liposuction, or other plastic surgery procedures, please feel free to contact us at 514-695-7450.