Why Choose Cosmedica
Plastic Surgery in West Island, Montreal
---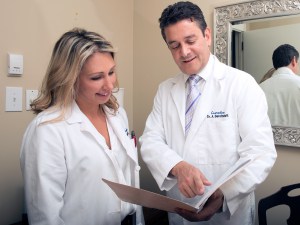 Simply put, you deserve the best. We have created an environment in which you are treated with professionalism and warmth from the moment you contact Cosmedica in Montreal. We are dedicated to making each patient's experience a positive event in their lives. It is our mission to deliver the ultimate patient service and aesthetic outcome every time to every patient. Serving our patients, fulfilling their every need, and maintaining their comfort always comes first.
Dr. Benchetrit, Nurses and Medical Estheticians are highly skilled individuals, qualified and innovative and have extensive years of experience.  They are all committed and dedicated to giving all of their patients the highest standard of care and will take the time to make sure you are happy with your results.
Dr. Benchetrit's clinic, Cosmedica, is one of the few in Quebec that offers the full range of  surgical and non-surgical cosmetic procedures. Dr. Benchetrit is specialized in cosmetic plastic surgery and lasers. He has published and given talks on these subjects at scientific meetings all over the world. At Cosmedica, we pride ourselves on the personal attention that we give to every patient in helping reach their esthetic goals safely and with complete satisfaction!
Find out for yourself by requesting a consultation online with Cosmedica, or call us at (514) 695-7450 to schedule an appointment.
A Personal Touch
We believe that each patient deserves our undivided attention. The consultation is never "rushed" and every question is extremely important. During your consultation, we'll take the time to craft a custom treatment plan and answer all of your questions. When deciding on a treatment, more is not necessarily better.  The end result should give the patient the desired effect with a very natural look that is not "over done". It should produce minimal discomfort and pain with minimal bruising and swelling, allow quick recovery, and leave minimal scars.  Continuity of care is a philosophy that extends beyond the permanence of our practice. It's also reflected in the individual relationships we build with our patients – something we believe helps ease the anxiety that naturally accompanies any surgical or non-surgical procedure.
State-of-the-Art Treatments
In a medical field that is constantly evolving, our Staff have the knowledge and skill to offer the most advanced procedures. As leaders in the cosmetic surgery field, Dr.Benchetrit and our staff knows that you want cutting-edge treatments, whether it's injectable fillers, a non-surgical alternative, a less invasive surgical technique, or a modern approach to a time-tested surgery.
You'll also be able to see why Cosmedica is such a special place, from Dr.Benchetrit himself and staff to the comfortable surroundings. We sincerely care about each of our patients and include you as one of our family. You'll find that most of our staff members have had treatments done that you may be considering, and will be pleased to share their experiences with you. We will also show you before and after photos of patients who have had procedures done by either Dr.Benchetrit or one of our staff members.
Lasting Relationships
Happy and satisfied patients are our top priority. Dr.Benchetrit, nurses, and Medical Estheticians at Cosmedica in Montreal welcome the opportunity to get to know you. Many of our patients return for further procedures and ongoing treatments. For us, this is the best gauge of our success.