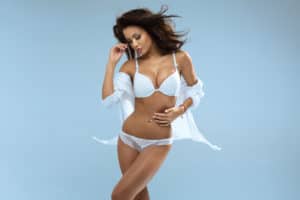 If you've recently spent any time perusing the Instagram accounts of Kim, Kylie or Khloé Kardashian, it's likely that you have seen at least one of them advertising a waist trainer. These garments purportedly shrink the waist and accentuate the hips, giving the body an hourglass-like shape. Manufacturers pay celebrities a pretty penny to model their waist trainers and generate interest.
Dr. Arie Benchetrit, a trusted surgeon that performs plastic surgery in Montreal, understands the desire for a beautiful body contour, but he encourages his patients to avoid waist trainers. In this post, he explains why. He also recommends some alternative ways to achieve a thin waist and a beautiful hourglass figure.
Dangerous and Unpredictable Garments
Waist trainers are corset-like devices made from thick fabric and hard metal boning. They are fitted around the waist and cinched tightly with laces. Fans of waist trainers believe that wearing the device can give the body an hourglass-like shape. Advocates also believe that in addition to shrinking the waist, waist trainers can improve posture and help the wearer eat less.
The truth is that waist trainers (and other shaping garments) are ineffective and won't change the proportions of the body. Even more importantly, wearing a waist trainer on a regular basis may be harmful to a person's health.
Squeezing the waist into a tight corset can crowd the vital organs (lungs, stomach, liver, kidneys) and push them into unnatural positions. This can cause short-term discomfort and possible long-term organ damage. Repeatedly wearing a waist trainer can also reduce lung capacity, making it difficult to breath, and restrict the lymphatic system responsible for removing waste and toxins from the body. And, wearing a tight waist trainer can block the digestive tract, causing acid reflux and other problems. Fungal infections of the skin have also been reported.
Achieve a Smaller Waist Safely
A safer and more predictable way to reduce your waistline is by following a healthy, balanced diet and exercising regularly. If smart lifestyle changes don't reduce excess fat and give you the shape you desire, an experienced plastic surgeon like Dr. Benchetrit can help. He offers several surgical body sculpting options, including liposuction and tummy tucks in Montreal, as well as non-surgical options such as Coolsculpting to get rid of unwanted fat and create more beautiful curves.
To learn more about these treatment options and which is right for your personal needs and goals, please call (514-695-7450) or email our practice today.