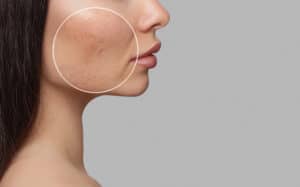 Acne can significantly impact your everyday life, and these unsightly and often painful blemishes can cause lasting damage to your skin. Luckily there are new techniques and technologies available to improve the appearance and depth of your acne scars. Our Montreal plastic surgeon offers several ways to restore a smooth skin tone and texture.
What Causes Acne Scars?
Inflamed blemishes are typically caused by excess oil (sebum), bacteria and dead skin cells. That debris causes your pores to swell and breaks the follicle wall. A deep break in the pore can spread the infected material into the surrounding tissues, creating deeper lesions that your skin works to repair with new collagen. Unfortunately, the repaired pore and surface are not smooth or flawless, leading to acne scars that follow you for many years after the blemishes subside.
Acne scars affect your appearance and skin health and can lower your self-esteem. These marks come in two forms: hypertrophic scars that create a raised tissue appearance and atrophic (depressed) scars that are small but noticeable holes (or icepicks) in the skin. Atrophic scars can also lead to boxcar scars, which are round or oval with steep angles.
1. Laser Scar Resurfacing
Dr. Benchetrit uses the Erbium-Yag ablative laser for deep scars. This is a state-of-the-art technology that treats deep surface irregularities in the skin in only one session. The treatment takes less than an hour and involves a handpiece that emits a controlled energy beam into your skin tissues to vaporize the damaged skin and trigger collagen production which results in new, smoother skin. Local anesthesia is used. The advantage of this laser is that it requires only one treatment but the disadvantage is the long downtime. You will need one or two weeks off work to recover from the laser treatment and the skin will remain light pink for a further three or four weeks. Make-up can easily camouflage the pinkness, however.
2. Photodynamic Therapy (PDT)
PDT treats moderate to severe acne, oily skin and sun damage and is an alternative to topical creams, drugs and antibiotics used to control acne. The treatment decreases oil gland size and oil production for acne-prone skin. PDT uses a combination of a topical photosensitizing agent (Levulan) and blue light or intense pulsed light to target and destroy the overactive sebaceous glands for less acne and healthier-looking skin.
3. Morpheus8 for Acne Scars
This new and innovative technology utilizes the rejuvenating effects of microneedling with radiofrequency (RF) energy. Morpheus8 treatments use up to two dozen tiny, gold-plated needles to penetrate the dermis (skin) and deliver RF energy to tighten the existing collagen fibers in the skin and stimulate new collagen from the underlying layers for further tightening and smoothing. Morpheus8 can treat active acne and scars along with stretch marks, cellulite, discoloration and lines and wrinkles. The customized treatment is typically done within 90 minutes and requires little to no downtime.
4. Fraxel Skin Rejuvenation
Fractionated laser treatments can deliver comparable results to laser skin resurfacing without extensive downtime. Dr. Benchetrit uses the Fraxel laser, considered the most advanced option for replacing old, damaged skin cells with fresh, healthy ones. The handpiece penetrates deep layers of the skin and creates micro-traumas in 15 to 20 percent (a fraction) of the skin, providing results with easier and faster healing than other laser methods for acne scars. You may need multiple treatments to reach your desired results, but the procedure takes an hour or less and has mild side effects with a one- or two-day recovery.
5. Facial Fillers
While other acne scar treatments focus on remodeling the skin, facial fillers address facial scarring differently. Injectables fill in skin depressions to create a smooth surface. Sculptra uses poly-l-lactic acid to even out your skin texture and thicken the skin. Radiesse uses calcium hydroxyapatite microspheres to improve skin tone and texture for 18 months or longer. Juvéderm and Restylane facial fillers offer scar improvement using hyaluronic acid, while PRP uses your body's healing properties with platelet-rich plasma derived from a sample of your blood.
Dr. Benchetrit offers Vectra 3D photography so you can view a simulation of your results on a computer screen beforehand.
If you struggle with moderate to severe acne scars, you have several options to smoothen your skin. Contact our Montreal office via telephone at (514) 613-4355 or email to schedule your appointment.