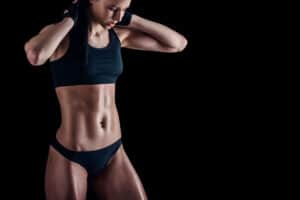 When you've exhausted your options and abilities with diet and exercise, it can feel defeating to still struggle with areas of stubborn fat and poor muscle tone. The TruSculpt Flex device is a non-invasive body sculpting treatment that offers a solution to these issues, improving the areas you couldn't with diet and exercise.
Our Montreal and Pointe Claire offices offer customized TruSculpt Flex treatments that sculpt, strengthen, firm and tone the muscles in areas such as the abdomen, obliques, buttocks, arms and legs.
How Does truSculpt Flex Work?
TruSculpt Flex uses multi-directional stimulation (MDS) technology to produce 54,000 muscle contractions in each 45-minute session or 40,000 contractions in 15 minutes with the new Plus mode. These treatments can target eight areas at once and simulate five variations of workouts that promote muscle building. There are three modes of TruSculpt Flex designed to mimic exercises, including:
Mode 1: This beginning step of TruSculpt Flex prepares your muscles like you would with a pre-workout stretch. It creates twisting motions to warm up the area, stretch muscles and build muscle contraction tolerance.
Mode 2: This treatment mode of TruSculpt Flex works on toning the muscles by mimicking muscle contractions from core strength and endurance exercises such as a squat or abdominal crunch. The TruSculpt device contracts and holds the intensity until the tissue strength is exhausted then relaxes to build muscle.
Mode 3: The third portion of a TruSculpt Flex treatment works to sculpt the muscles through quick, deep and sequential muscle contractions that work to build up muscle mass and up your basal metabolic rate.
Benefits of truSculpt Flex Treatments
You can enjoy visible improvements in muscle tone and definition after just four TruSculpt Flex treatments. These sessions are personalized to your lifestyle and goals, and one 45-minute treatment can address eight areas at once. Patients report feeling gentle sensations as the muscles contract, which increases with the intensity of the TruSculpt Flex modalities. Results are consistent, and there is no downtime required after your treatments.
Return to your day-to-day activities and exercise regimen right after your TruSculpt Flex treatment. However, you may experience some tingling sensations for several hours and feel muscle soreness and tenderness for up to three days.
One of our team members will customize your treatment to target multiple muscle groups, both large and small, for individual results that focus on your troublesome areas. Your results will continue to improve in the weeks after your TruSculpt Flex treatments, peaking at around eight to 12 weeks.
If you're interested in muscle sculpting with TruSculpt Flex, contact Dr. Arie Benchetrit in Montreal. Schedule your consultation today by calling (514) 700-5233.