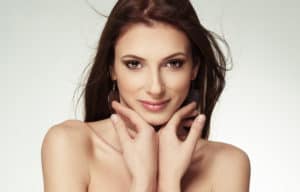 It often seems that everyone has an opinion about rhinoplasty — especially when a celebrity chooses the procedure and the results are extreme. Most people also assume they can spot rhinoplasty a mile away, and know exactly what the surgery can and cannot do.
Trusted Montreal plastic surgeon Dr. Arie Benchetrit understands that some common assumptions about the procedure are as close to the truth as reality television is to reality. He has performed hundreds of rhinoplasties, and is able to identify which patients make the best candidates for the procedure, and who might benefit from other cosmetic modifications, such as dermal fillers, upper lip lift or even neuromodulators such as Botox.
Artistic Realism
The best candidates are realists. Clients whose goal is to acquire a radically different nose that makes them look like a Cruise or a Kardashian, a Celine or a Serena, are good candidates for disappointment. Practical goals and realistic expectations are key to a successful result, as is close collaboration with your surgeon. Open communication between doctor and patient is essential to achieving a satisfying outcome.
Together, you are creating a work of cosmetic art. The plastic surgeon is the craftsman, the sculptor. You, the subject, provide the image, the vision, the dream. The process requires extraordinary surgical skill, but also something more; a transcendent perspective once beautifully described by da Vinci: "Look at light and admire its beauty. Close your eyes, and then look again: what you saw is no longer there; and what you will see later is not yet."
Adjusting Proportions
Guided by this combination of imagination and inspiration, a plastic surgeon can change the size or width of the nose, add new degrees of symmetry or refine its shape. The surgeon can accent your features with a more prominent nose, or add subtlety to one that is overly dramatic.
Components of this delicate and complex structure can also be modified, such as the nostrils, the tip and the nasal passages. Because of this, rhinoplasty is an effective solution for a variety of medical issues that can affect breathing, such as a deviated septum.
Dr. Benchetrit is adept at adding volume to the nose, changing its contours and refining the angle of its projection. Broken noses and noses with a bump or bulbous tip can be remade and realigned. A nose that has always seemed out of place can be harmonized with other facial features.
These goals are achievable with most adults, but there are limitations: Rhinoplasty is riskier for persons with unusually thin skin, as an opaque surface is necessary to cloak bone grafts and other traces of the underlying surgical handiwork. Conversely, skin that is too thick may not be flexible enough to drape snugly across a smaller nose. This lack of elasticity is common in patients who are middle age or older, which is why the best outcomes are more likely with younger patients.
If you are nervous about what the results of your rhinoplasty will look like, don't be. Using the advanced technology of the Vectra 3D photo system, Dr. Benchetrit can show you a simulation of your expected results and how your new nose will "fit" on your face. This amazing tool allows patients to participate in the decision-making process as to how to modify the shape of their nose to meet their aesthetic goals.
For more information on rhinoplasty, Dr. Benchetrit invites you to schedule a consultation at our practice. Call or email us today to request an appointment.