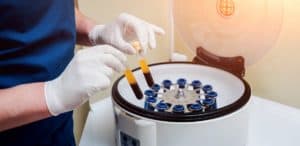 Platelets are a component of our blood best known for their ability to clot and heal injured areas of the body, such as tendons, muscles and joints. Platelet-rich plasma, or PRP, is a solution that contains a higher concentration of platelets than what is normally found in blood.
PRP has been used in areas of medicine, such as orthopedics, for many years. More recently, plastic surgeons and dermatologists have discovered the aesthetic benefits of PRP, and nowadays many of them offer treatments using PRP.
Since PRP is relatively new, there are still many lingering questions about how it works. Dr. Arie Benchetrit frequently meets patients who want to know how exactly PRP can improve their appearance.
Understanding Platelet-Rich Plasma
Platelet-rich plasma is full of growth factors and protein building blocks, which help the body's tissues repair themselves. Just as PRP can be used to help an injured ligament or muscle repair itself, it can also help repair areas of the skin that are not as firm, smooth or taut as they used to be.
PRP is introduced into aged or imperfect skin to produce a regenerative effect. The platelets help your body's cells renew and repair themselves. Accelerating the replacement of dead or damaged skin cells results in smoother, firmer and more even-looking skin. PRP also helps stimulate the natural production of collagen and elastin, two proteins that are vital to youthful-looking skin.
PRP treatment can reduce fine lines and wrinkles, tighten loose skin and enhance overall skin texture and tone.
The use of PRP in cosmetic treatments is incredibly appealing because it is all natural and uses your own biological material. You do not have to worry about experiencing an adverse reaction to a foreign substance.
Treatment Details
There are several ways to introduce PRP into the skin. Some practices offer microneedling with PRP, which involves making tiny punctures in the surface of the skin and infusing the skin with PRP.
At our practice, Dr. Benchetrit injects PRP into the skin during a quick and relatively painless procedure.
First, your blood will be drawn and placed in a machine that spins it down to concentrate the platelets. Then, we will numb the area of your skin being treated and inject the PRP solution into the target treatment area. Once injected, the PRP triggers your body's natural healing process and the production of fresh collagen and elastin.
Results can be seen in the weeks and months following treatment.
Contact Us Today
For more information about improving the appearance and quality of your skin with PRP injections, please call or email our practice.