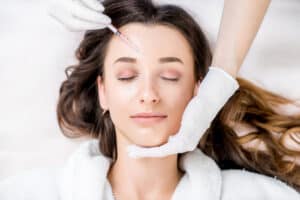 Botulinum toxin products are a popular treatment for lines and wrinkles on the upper portion of the face, including crow's feet, vertical frown lines (glabellar lines), and horizontal lines across the forehead. These injectable products, sometimes referred to by providers as neuromodulators, temporarily freeze specific facial muscles that leave indentations on thinning skin so the lines have an opportunity to soften.
At his practice in Montreal, Dr. Arie Benchetrit offers botulinum toxin injectables: neuromodulators. Although each product has many similarities, there are slight but significant distinctions that may determine which is the most appropriate for your cosmetic needs. Read on to discover these differences.
Concentration
The main distinction between these neuromodulators is the concentration of the botulinum toxin. Dysport has a lower concentration than the others because it contains saline to dilute it slightly. While Dysport is capable of achieving results similar to those offered by neuromodulators, Dr. Benchetrit must use more units of the injectable. He is more likely to suggest Dysport for larger treatment areas, while the other two are better for smaller target areas.
As for neuromodulators, the main difference is the "purity." neuromodulators contains some additives, whereas Xeomin does not, which may make it a better choice if you have certain allergies.
Result Timelines
As similar as these injectables are, doctors and patients have found slight differences in the amount of time they take to produce noticeable improvement. On average, improvements from Dysport can be seen within one or two days, neuromodulators generally takes two or three days, while Xeomin takes around four days to deliver visible results. For all three, it takes close to two weeks to see the full results because your existing lines need the opportunity to fade. Although these time discrepancies may seem insignificant, it can be important if you are seeking this treatment just a few days ahead of an important social event.
If you are not in a rush to see results, your patience may be rewarded.
Prices
With many factors being equal, you may decide that cost is the most relevant factor. Neuromodulators are roughly the same price, while Dysport tends to be less expensive than these other two options. However, do not forget that Dysport is a more diluted solution, which may mean you require more units of Dysport to get the same results you would with neuromodulators.
Schedule an Appointment With Dr. Benchetrit
Even if you are still not sure which type of neuromodulator is most appropriate for your cosmetic needs, our knowledgeable team of experts is happy to help you make the right choice for the most beneficial outcome. To see why Dr. Benchetrit and our medical estheticians are considered the top injectors in Montreal, please call (514) 700-5189.