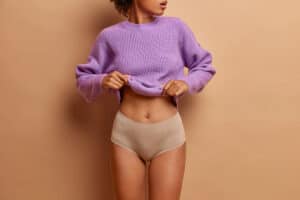 Have you worked hard to get a flat stomach, but not achieved the results you were hoping for? Tummy tuck, also known as abdominoplasty, is one of the most popular forms of plastic surgery because of how effective it is at reshaping your midsection. If you are like many prospective tummy tuck patients, you may hesitate to pursue surgery because you are afraid that your stomach will not look natural. In this blog, Dr. Arie Benchetrit describes the potential impediments to achieving natural results — and how to circumvent them.
Scars
The biggest giveaway that you have had tummy tuck is your scar. When performing abdominoplasty, Dr. Benchetrit makes a horizontal incision so that he can remove excess skin and suture the remaining skin for a smooth, taut abdomen. Although this scar never fades completely, the good news is that it is positioned so low that your underwear or swimsuit typically covers the scar. With even a small amount of clothing on, you can easily hide the most obvious sign of plastic surgery. Dr. Benchetrit will also prescribe advanced anti-scar creams that will help fade the scar quickly and permanently.
Belly Button
The navel is another factor that you and Dr. Benchetrit should consider when creating natural-looking results. When your remaining abdominal skin is redraped for smooth contours, your belly button hole disappears. The trick is for a surgeon to create a new hole that looks attractive, proportional to the new size of the stomach, and in the position of the existing belly button stalk. Always take a close look at the belly buttons in the before and after photos of prospective plastic surgeons, since that can be the part that looks least natural when performed by a less experienced surgeon.
Proportions
If you want a stomach that looks more attractive without looking unnatural, you need a plastic surgeon with keen eyes and advanced techniques. The best results do not remove as much skin and fat as possible, but rather make the stomach look proportional to other areas of the body, paying special attention to the skin's tightness around the ribs and hips. After hearing your aesthetic goals during a consultation, Dr. Benchetrit can devise a surgical plan that fulfills your wishes.
No Drains
Dr. Benchetrit is one of the very few surgeons in North America who performs almost all of his abdominoplasties without leaving drains in the patient. He is able to do this by preserving the patient's own lymphatic vessels, which act as natural drains, using a more difficult and meticulous technique than the standard tummy tuck. This makes the recovery much easier for the patient, without having to worry about drains dangling from the wound for two or three weeks and possibly getting infected, dislodged, and eventually removed. The absence of drains also avoids the inevitable drains scars, which often look like two dents in the pubic area.
Visit Dr. Benchetrit
If it's not already clear, the most natural tummy tuck results are the work of the best plastic surgeons. For a firm tummy that will have your friends fooled, choose Dr. Benchetrit. Call (514) 700-5233 to schedule a consultation at his Pointe Claire or downtown office in Montreal, Quebec.