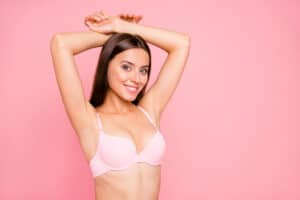 Unfortunately, your breasts don't stay elevated and perky forever. Breast lift (or mastopexy) is a surgery that removes loose skin from around the breasts to improve their appearance. Premier Montreal plastic surgeon Dr. Arie Benchetrit performs this surgery to address a variety of cosmetic concerns. To determine if you may be a good candidate for this procedure, please read the following list:
1. Your Breasts Have Started to Droop
Breasts eventually sag for all women. Aging is the main culprit for droopiness, but pregnancy and weight loss can exacerbate the situation. Rather than wearing a bra constantly (which can restrict some of your wardrobe options), you may choose a breast lift to improve the elevation of your breasts so that they rest higher on your chest and have a perkier appearance for many years.
2. Your Areolas Have Changed Size and/or Position
When your breasts droop, so do the position of your areolas. Over time, your areolas rest closer to the lower breast crease. Dr. Benchetrit makes sure to reposition the areolas so that they are located more centrally on your elevated breasts. He can also reduce their size by removing some tissue from the circumference if they appear too large or unproportional to your breast size.
3. Your Nipples Point Downward
Youthful breasts typically have nipples that point straight forward. However, as your breasts get older, their projection turns downward. At the same time as he adjusts your areolas, Dr. Benchetrit can move your nipples so that they point forward or upwards to achieve a perky look.
4. Your Breasts Look Flat and Pendulous
Another consequence of sagging is that the breasts lose a fuller round shape. While you may not appear flat-chested, the distribution of the breast volume does make them look flatter than they had previously. By removing loose skin and compacting the volume of the breasts for a rounder appearance, your breast profile may look somewhat enhanced. (And you can add breast implants if you want extra volume.)
5. You Just Want Your Old Body Back
Plastic surgery can be a confidence booster for many patients. If you miss the breasts you used to have as a younger adult (or before you had children), a breast lift is a highly effective way to restore the body you love and increase your self-esteem.
Learn More About Breast Lift Surgery
Dr. Benchetrit is a talented breast surgeon with an impressive portfolio that demonstrates his breast lift transformations. He has performed over 3000 breast surgeries and specializes in the minimal scar techniques. He also uses the Vectra 3D photo system to give his patients a simulated preview of the results of their surgery, allowing them to refine their choice of technique and implants, if desired. To discuss this procedure in more detail and decide if surgery is right for you, please schedule a consultation by emailing or calling 514-700-4905.