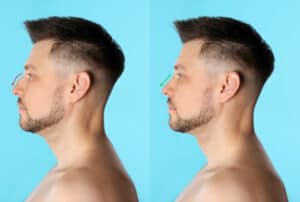 Rhinoplasty, or nose surgery, is one of the most requested plastic surgery procedures in North America. One reason for its enduring popularity is how customizable it is: there are so many types of potential changes that patients can ask for to get the nose they have always wanted. In this blog, renowned plastic surgeon Dr. Arie Benchetrit shares some of the cosmetic and functional improvements he can include in your rhinoplasty plan:
Resizing the Nose
The harmony of your facial features plays a big part in how attractive you are. Therefore, if your nose looks out of proportion to your face, you may wish to adjust the size. Most patients want a smaller nose, which involves removing bone and cartilage, but enlarging the nose is sometimes desired for patients with a flat or under-projected nose.
Removing a Bump
Many people have a nose with a bump (or hump) on the bridge. Although a bump does not pose any health problems, its visibility can make you feel self-conscious. By shaving down the bone and cartilage, Dr. Benchetrit can create a bridge with a smooth slope.
Straightening a Crooked Nose
Injury or genetics can cause a nose to be misaligned. Since symmetry is connected to beauty, crookedness can impact your appearance. Fortunately, Dr. Benchetrit can manipulate the structure of the nose so that it takes on a straight, symmetrical appearance.
Adjusting the Projection of the Nasal Tip
While some patients do not like the shape of their nasal tip (considering it too round, flat, or pointy), others are concerned with the direction of the nasal tip. On most men, the nasal tip is straight forward, at a 90-degree angle, while for women the nasal tip projects slightly upward. Patients who have a nasal tip that projects downward or does not conform with the patient's gender can make their desired adjustments.
Changing Nostril Size
If you are worried that your nostrils appear too small, large, wide, or narrow, Dr. Benchetrit can help to create a different shape with rhinoplasty. The best solution generally involves removing a small amount of tissue, but repositioning the nasal tip can also change the appearance of your nostrils.
Improved Breathing
While most of the nose reshaping surgeries that Dr. Benchetrit performs are for cosmetic purposes, he also can make corrections to the septum for improved airflow through the nose. Once your deviated septum has been straightened, you should notice how much easier it is to breathe normally.
Schedule a Consultation
To discuss the types of changes you would like to make to your nose with a world-class plastic surgeon, please book a consultation with Dr. Benchetrit at his downtown or West Island office in Quebec by calling 514-700-5189. Your consultation will include a simulation of your surgical results with the Vectra 3D photo system. This advanced technology allows the patient to participate in the decision-making process to make sure that the results of the surgery match the patient's expectations.