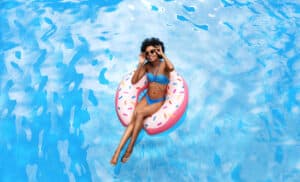 Although liposuction has been around for several decades, myths about the popular surgery persist. While many assume that liposuction is for lazy people trying to circumnavigate diet and exercise, it is more accurately a way to eliminate bulges  where stubborn fat persists.
Because of the misconceptions, Dr. Arie Benchetrit, a leading plastic surgeon in Montreal, answers a lot of questions from curious patients. To help you better understand what liposuction is and what it can do for you, he answers a few of the most common questions in this blog.
How Much Weight Can I Lose?
All patients must understand that liposuction is not a weight-loss surgery. To lose a significant amount of weight, you should try dieting and exercising — or consult with a doctor who performs bariatric surgery. Liposuction is most effective on patients who are near their goal weight yet have had trouble losing some stubborn deposits of fat in trouble areas. Although the fat reduction only amounts to a couple pounds on the scale, your contours should look vastly improved.
Does Liposuction Last Forever?
Liposuction is not a temporary fix. Because the fat cells that are suctioned out are gone forever, you should be able to enjoy your liposuction results for the rest of your life. The key to having long-lasting success is to maintain a steady weight. Fluctuating a few pounds up or down is not a big deal, but a more dramatic shift can change your body's proportions. That is because the fat you gain in the future is stored in other areas of your body.
How Soon Can I Enjoy My Liposuction Results?
Most likely, you will notice that you have a trimmer figure immediately following surgery. However, because of post-surgery swelling, your full results will take time to manifest. For your best results, wait at least a few months for your new, sleek contours to become visible. This means that if you are hoping to unveil your new beach body on vacation, you may want to schedule your surgery in advance.
Is Liposuction Still Worth It with Less-Invasive Alternatives Available?
In recent years, non-surgical body contouring procedures like CoolSculpting have become popular. Liposuction results are much more visible than any less invasive alternative, so for a more dramatic transformation, liposuction is still the best choice. Liposuction is also more predictable and tunable than any non-surgical procedures, which also require several treatments for best results. However, if you would prefer to avoid surgery altogether, then it would make sense to choose a procedure like CoolSculpting, which kills excess fat cells with cold temperatures.
Dr. Benchetrit Will Answer All Your Questions
Dr. Benchetrit prioritizes patient comfort and education, which is why he takes the time to explain each procedure thoroughly and answer all questions during a consultation. To learn more about liposuction so you can make an informed decision, please call 514-700-4905 today.