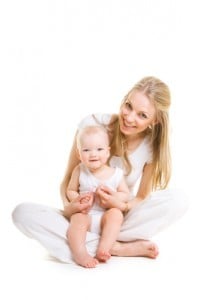 One of the best rewards of a mommy makeover is that clothing fits and flatters the body and breasts after surgery. No longer do you need to cover your physique in layers of baggy, shapeless clothing. Occasionally, Montreal plastic surgeon Dr. Arie Benchetrit is asked what women should wear after mommy makeover. Here are a few of his best recommendations:
What to Wear Immediately after Surgery
To keep it simple, you will want to wear the same outfit to and from the surgery center. A good option is a pair of baggy sweatpants with a zip-up hoodie and a pair of flip-flops or sneakers. It is recommended that you purchase a few outfits in a size larger than you normally wear (don't spend too much money in case the clothes get stained or stretched-out). The clothing should be loose and easy to slip on over the surgical bandages and abdominal binder.
During Recovery
During your initial recovery from mommy makeover, you will have surgical bandages covering your incision sites, and you will wear binder-like garments around your abdomen and breasts. You will want to choose clothing with a little bit of room to comfortably hold the garments and bandages. Most women continue to wear baggy sweatpants, zip-up or button-up shirts or hoodies (anything that fastens in the front) and other kinds of loose clothing for the first few weeks of recovery. A soft robe is another good option. The key is to remain comfortable and make it easy to slip in and out of your clothes.
After You've Healed
After your body has recovered from surgery and Dr. Benchetrit has cleared you to remove your binder-like garments, you can start to enjoy your results.
One rule of thumb is to wear clothes that fit. This might seem like a basic tip, but it is something you need to pay attention to. Chances are that before surgery, you concealed your figure in loose, shapeless garments (think: oversized jeans and tunic tops). Now is the time to show off your physique with fitted, tailored pieces. This is a critical piece of your transformation. If you continue to wear ill-fitting clothing, you will continue to see your body in its pre-surgery state. By choosing pieces that fit and flatter your physique, you can enjoy better body image and self-confidence.
First, throw out all of your old, oversized clothing in your old size. Don't hang on to clothing for emotional reasons; be diplomatic about the pieces you keep and the pieces you toss. Then, treat yourself to a shopping trip and look for classic wardrobe staples. Hit the dressing room until you have found a great pair of skinny jeans and a fitted, button-down white shirt. Look for an elegant wrap dress that hugs your curves. Top off your new outfits with a sleek trench coat. Make sure you know an excellent tailor that can adjust the fit of your clothes as needed. If a piece doesn't quite fit off-the-rack, have it tailored to your proportions.
Learn More about Mommy Makeover
For more information about mommy makeover or tips to optimize your recovery, please contact the Montreal plastic surgery practice of Dr. Arie Benchetrit. You can reach us by calling 514-695-7450.