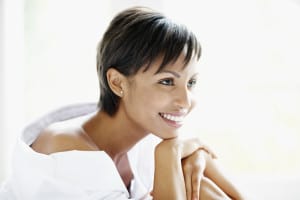 If you are dismayed to find that your skin has lost its once-youthful tone and firmness, Montreal plastic surgeon Dr. Arie Benchetrit has a solution for you. He offers an FDA-approved treatment called Thermage, which is designed to lift and tighten the skin on the face and neck, around the eyes and even other body areas such as the abdomen, arms, thighs, etc. And the best part is: treatment with Thermage does not require incisions, injections or anesthesia. You can enjoy powerful results with rapid recovery and minimal side effects.
Understanding Thermage
Thermage uses radiofrequency technology to heat the deep layers of skin and tissue. The heat does two things. First, it stimulates the contraction of the tissue's collagen; with this contraction, the overlying skin tightens. Secondly, the energy also kick-starts the body's collagen production process. Over time, the supply of new collagen is great for smoothing and firming the skin.
Thermage has been successfully used on the following areas:
Upper and lower eyelids
Brow line
Neck
Jowls
Cheeks
Jawline
If you notice skin laxity, wrinkles, fine lines or lack of definition in these areas, Thermage may be helpful to you. Keep in mind that the treatment works best for individuals with mild to moderate skin concerns. Since it is not a surgical procedure, it is not suitable for dramatic skin tightening. Dr. Benchetrit can examine your problematic areas and advise whether Thermage will produce the desired results; and, if it will not, he can suggest an alternative or a combining Thermage with other treatments such as Botox or fillers.
Treatment Details
As mentioned, treatment with Thermage does not require incisions, injections or anesthesia. The handpiece is simply placed over the area of concern and emits pulses of radiofrequency energy. As the handpiece works, you may feel alternating sensations of hot and cold, and possibly some gentle vibrations. You will not feel pain or discomfort. Depending on the size of the treatment area, the process may take between 45 and 90 minutes.
After treatment, you can immediately return to work and your normal activities. Your skin may look slightly red for an hour or so, but you can apply makeup to conceal the area.
Initial results appear almost immediately and continue to improve for about six months as the body regenerates collagen. Thermage effects last for about 18 to 24 months. At that point, repeat treatment may be suggested to prolong the effects. Please feel free to browse our gallery of Thermage before and after photos!
Schedule a Free Thermage Consultation
To schedule a free consultation with Dr. Benchetrit and his team to discuss Thermage in more detail, please contact our Montreal plastic surgery practice. Call us at 514-695-7450 today.