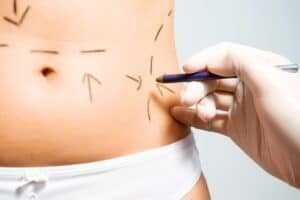 Nobody understands the desire for a beautiful face and body like plastic surgeon Dr. Arie Benchetrit. In his many years of practice, he has helped many patients fulfill their aesthetic goals and feel more confident.
It is not uncommon for Dr. Benchetrit's patients to request or require more than one procedure to achieve their desired results. Here is what you need to know about combining plastic surgery procedures.
Advantages of Undergoing Multiple Procedures Simultaneously
Improved outcomes
In some cases, combining multiple procedures offers improved outcomes. For instance, if you want to increase your breast size but your natural breasts sag or droop, it makes perfect sense to combine breast augmentation and breast lift into a single operation. Or, a mommy makeover — which usually combines breast surgery and tummy tuck — can whittle your waistline and enhance your breasts after they have been affected by having children and nursing. The flatter tummy enhances the breasts while the fuller breasts seem to flatten the tummy.
A single recovery
Combining more than one procedure into a single operation also means just one recovery period. Though that recovery period may be slightly longer, most patients agree that logistically, it is easier to plan for one recovery rather than two or more.
A single anesthetic experience
A board-certified anesthesiologist will put you to sleep and monitor your vitals during surgery.  While there is usually no issue with having several separate surgeries under general anesthesia, most patients prefer reducing the number of times they receive anesthesia so as to minimize side effects.
Achieve your final results sooner
Combining two or more chosen procedures into one surgery enables you to attain your ultimate results sooner than if you space out procedures.
Less expense
Bundling procedures can result in cost savings. For example, you will only pay the facility fee and anesthesiologist's fee once.
Safety Considerations
Your health and safety are critically important to Dr. Benchetrit, and he will never recommend a treatment plan that could jeopardize your well-being. In some scenarios, he does not recommend combining procedures. You could have existing health conditions that raise the risks of surgery, the total operating time could be too long or your requested procedures may not be safe to perform together.
The best way to get professional advice about your specific situation is to meet with Dr. Benchetrit in person for a consultation. He will evaluate your current health, aesthetic goals and desired procedures, and offer his recommendations for combining procedures. He will also make sure you understand the benefits and risks of the proposed treatment plan, and answer your questions. You may choose to move forward with a combination operation, stage out procedures separately or scale back the treatment plan altogether.
To request a consultation with Dr. Benchetrit, please call or email our office today.