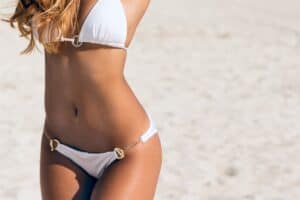 Every liposuction candidate has questions about when they will be able to resume normal activities after surgery. If you are preparing to undergo liposuction to eliminate stubborn fat and improve your body's contours, you are probably wondering how long it will take before you are "swimsuit-ready." Dr. Arie Benchetrit addresses that very question in this post.
When Can I Show Off My New Figure?
The amount of time you will need to recover after liposuction depends on the specific area(s) treated, the amount of fat removed and whether the procedure is combined with other surgical procedures. Having a little bit of fat removed from your knees will usually require less time to recover than having a significant amount of fat removed from your abdomen, hips and thighs.
Another factor to consider is that you will have swelling and bruising after virtually any liposuction procedure. These aftereffects tend to peak one to two days after surgery and then gradually subside in the subsequent days and weeks. Following Dr. Benchetrit's instructions and wearing your compression garment as instructed can help swelling and bruising resolve quickly. By six weeks after surgery, most of the swelling should resolve.
Finally, remember that it can take additional time for your results to finalize. Even though bruising and swelling may not be noticeable six weeks post-op, your skin will be contracting and tightening over the treated area(s) and your results will continue to improve. It will take a few months for your final results to reveal themselves. The good news is that the results are usually permanent!
Improving Your Bikini Body with Liposuction
Liposuction is a safe, effective way to sculpt areas that are commonly on display in a swimsuit, including the:
Abdomen and "love handles"
Male chest
Lower, mid and upper back
Upper arms
Inner and outer thighs
Knees
Hips
Buttocks
Neck
If you are tired of sucking in your stomach, wearing a t-shirt to the pool or covering up in sarongs while on vacation, liposuction can give you the slim physique that you have always wanted.
Schedule a Liposuction Consultation with Dr. Benchetrit
Consulting with Dr. Benchetrit about your treatment plan will give you an idea of when you will be ready to hit the pool or go on a beach vacation after liposuction. By the end of your surgical consultation, you should have a clearer idea of when the expected aftereffects will subside and you will be able to enjoy your results.
To request a liposuction consultation with Dr. Benchetrit, please call or email us today.