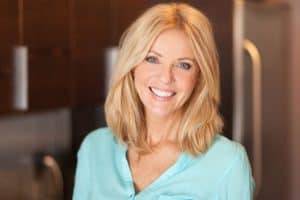 Many people are diligent about pampering and protecting their facial skin, but do not show the same care to their neck. If you are one of them, you might notice your neck skin has appeared to age more quickly, and looks significantly more loose or wrinkled than your face.
Dr. Arie Benchetrit has helped patients just like you achieve a more youthful and elegant neck. He offers a wide range of treatments to tighten loose neck skin and smooth wrinkles.
Non-Surgical Solutions to Loose Neck Skin
If you are interested in tightening up loose folds of neck skin without surgery, anesthesia or incisions, Thermage or Ulthera might be a good option for you.
Thermage is a non-surgical treatment that tightens loose skin in the neck (as well as other areas of the face such as the cheeks, jawline and eyelids). It is a safe and effective way to moderately firm the skin and redefine the jawline.
Using radiofrequency energy, Thermage heats up the deep layers of skin and underlying tissue to make collagen shrink, which has a skin tightening effect. Heating up the deep layers of the skin and tissues also triggers the production of new collagen; in the months following treatment, the skin appears firmer and smoother as collagen reserves grow.
Like Thermage, Ulthera heats up the deep layers of skin and the superficial neck muscle (platysma) to cause collagen contraction for tighter, smoother skin and an improved neck contour. The heat response also stimulates the production of new collagen. Unlike Thermage, Ulthera uses focused ultrasound waves to create heat.
Thermage and Ulthera are very popular because they only require a single treatment that lasts 60 to 90 minutes. No anesthesia is needed and there are nearly no side effects or downtime. Results can last up to two years and the treatments can be repeated as desired. These treatments can also be combined with non-surgical fat removal using deoxycholic acid injections or CoolSculpting, for patients who have excess neck fat as well as loose skin.
The Gold Standard of Neck Tightening
Non-surgical treatments are appealing, but they are not right for everyone. If your neck skin is very loose and fleshy and if there is significant excess fat, you might benefit more from a neck lift.
A neck lift is a surgical solution to loose, sagging skin, muscle and tissue and to remove excess fat. Although surgery is more invasive than Thermage or Ulthera, the outcomes are more dramatic than what can be accomplished with non-surgical means, and the results last a very long time (at least 10 to 15 years).
Dr. Benchetrit offers several variations of the neck lift and specializes in the "Suspension Necklift." During the procedure, he creates tiny incisions behind each ear and an additional incision underneath the chin. He uses liposuction to remove excess fat and tightens the neck muscles. Then, Dr. Benchetrit places permanent suspension sutures deep in the neck tissue to suspend sagging muscle and skin and redefine the jawline. After excising loose neck skin, Dr. Benchetrit closes the incisions. The scars are tiny and almost invisible. Most patients can return to work after one week and full activities after two weeks.
To learn more about the available options and determine the approach that is best for your particular needs, please schedule an appointment with Dr. Benchetrit today.