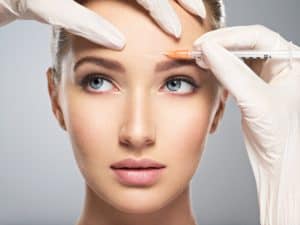 One of the telltale signs of aging is low, heavy brows. As we get older, it is very common for our brows to sag, creating a sad, angry or fatigued facial expression.
If you are bothered by low or heavy brows, Dr. Arie Benchetrit will work with you to identify the ideal solution to your concerns. Two of the most popular treatment options at his Montreal plastic surgery practice are neuromodulators and brow lifts.
The Ease and Convenience of Neuromodulators
If you have just noticed your brows look low or heavy, neuromodulators injections may help. Neuromodulators temporarily relaxes the muscles that pull down on the brows, resulting in a slight brow lift. Neuromodulators can also relax wrinkles and lines across your forehead and between your eyebrows. The injections can be easily administered in our office in mere minutes, and the results appear rapidly. The convenience of neuromodulators injections is appealing if you do not want or cannot have surgery because of medical reasons. There are no side effects and no downtime. The injections should be repeated every few months to maintain the effects.
Consider that neuromodulators is only effective for mild brow drooping. If your brows are very low or heavy, neuromodulators injections may not provide the correction you desire.
A Longer Lasting Solution
At a certain point, surgical browlift surgery may become the more suitable option for you. A browlift provides greater improvement with more lasting correction. Unlike neuromodulators injections, which need to be repeated every four months or so, a browlift will last several years before needing a touch-up.
During the browlift, Dr. Benchetrit can access and modify the muscles that cause wrinkling and frown lines. He can remove excess skin if needed (i.e., a high hairline) while lifting the eyebrows to a more youthful-looking position. If the eyebrows are asymmetrical, this can be corrected at the same time.
Dr. Benchetrit's preferred approach to a browlift is the trans-blepharoplasty browlift; this involves combining upper eyelid lift (blepharoplasty) with a browlift through a tiny incision in the upper eyelid. The brow is suspended using internal sutures that dissolve within six months and are replaced with scar tissue that holds the brow up. The beauty of this approach is that the scar is almost invisible, hidden completely when the eye is open, as compared to traditional browlift scars in the forehead or scalp
Consult With Dr. Benchetrit
If you are on the fence about neuromodulators versus a brow lift to improve the appearance of low, sagging brows, Dr. Benchetrit is the best resource to answer your questions and explain your options. During a one-on-one consultation, Dr. Benchetrit can evaluate your specific anatomy and needs and recommend the treatment option that will best benefit you. He can also show you before-and-after images so you have the opportunity to see what you can expect from each treatment.
To request a consultation, please call or email our practice today.