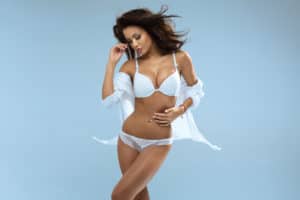 Body contouring refers to a set of plastic surgery procedures that address stubborn fat and loose, excess skin that are resistant to diet and exercise. If you are considering body contouring to slim and tone your body, Montreal plastic surgeon Dr. Arie Benchetrit encourages you to research your treatment ahead of time.
Here, he answers commonly asked questions about body contouring.
Can I Lose Weight with Body Contouring?
This is one of the most common questions Dr. Benchetrit fields from prospective patients. Body contouring should not be used as means to lose a lot of weight. In fact, procedures like liposuction, tummy tuck and thigh lift are commonly performed after multiple pregnancies; after on-and-off weight loss; or after an individual has lost a substantial amount of weight (either through diet and exercise or bariatric surgery) and has been left with loose, excess skin or small pockets of fat. While patients can lose five to 10 pounds with these procedures, the main goal of body contouring surgery is to eliminate these aesthetic problems and create a more flattering body shape.
What Are My Treatment Options?
Your body contouring treatment will be tailored to your specific needs and goals. It can include one or more of the following procedures:
Tummy tuck to eliminate excess skin, fat and stretch marks and to repair weak or separated muscles for a flatter and toned abdomen
Liposuction to remove surplus fat on the abdomen, hips, waist, thighs, back, arms and other body areas
Arm lift to remove excess skin and tighten the underlying tissues for a leaner upper arm contour
Thigh lift to eliminate loose skin and fat on the inner thighs
Non-surgical options such as Coolsculpting, Thermage and Ulthera
What Should I Expect During Recovery?
The initial recovery period after body contouring procedures typically takes one to two weeks. During this time, you will need to avoid strenuous or vigorous activities, including exercising, bending and lifting. Side effects including bruising, swelling and soreness are normal but subside over time. Most patients are fully recovered two to six weeks after undergoing body contouring. Dr. Benchetrit will give you more detailed instructions to follow and an accurate assessment of your recovery timeline during a post-op consultation.
How Can I Maintain My Results?
Body contouring results can be long-lasting or permanent since fat cells do not return once they have been removed. However, experience is key, so for best results you should consult with a highly trained and experienced plastic surgeon. These procedures are highly motivating psychologically, so many patients then find it much easier to maintain a stable weight by exercising and eating healthily. It's much more fun to work out when you can actually see the results!
Learn more about sculpting your physique with body contouring by scheduling a personal consultation with Dr. Benchetrit. Contact his Montreal practice by calling 514-613-4913 or emailing us today.