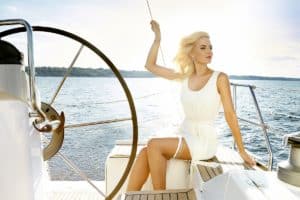 Summer is still months away but it's not too early to start thinking about your beach body. In fact, undergoing a plastic surgery procedure at the beginning of the year ensures that you will be fully healed by the time summer rolls around.
Here, Montreal plastic surgeon Dr. Arie Benchetrit discusses the most common plastic surgery requests he receives for a summer body.
Breast Augmentation for Fuller, Sexier Breasts
If you dislike the way your favorite bikini or summer tops fit you due to naturally small or deflated breasts, breast augmentation can help. Through the placement of silicone gel or saline implants, breast augmentation enhances breast size and volume as well as creates a more attractive overall figure.
Tummy Tuck for a Toned Abdomen
If countless crunches are not getting you the trim and toned abdomen you've been working for, it may be time to consider tummy tuck. The abdominoplasty procedure eliminates loose, stretched-out skin and repairs weakened and separated abdominal muscles that are resistant to diet and exercise. The result is a flatter and more sculpted appearance.
Liposuction and CoolSculpting for More Flattering Curves
Not to be confused with weight loss surgery, liposuction fine-tunes the body's contours by removing small problem areas of fat. The surgical procedure involves creating a series of tiny incisions and inserting a thin tube to break up fatty tissue. The fat is then removed using gentle suction.
If you struggle with noticeable bulges of fat but want to avoid surgery, CoolSculpting may be a better option. This minimally invasive procedure uses fat freezing technology to remove fat cells and slim the treated body area. CoolSculpting is an appealing option for many people because it does not involve the incisions, anesthesia or downtime required for liposuction. Each fat removal procedure has pros and cons, which Dr. Benchetrit can discuss in detail with you during a personal consultation.
Skin Treatments for a Glowing Complexion
When working on your summer body, it's important not to forget your skin. Dr. Benchetrit offers an array of skin and anti-aging treatments that will surely help you put your best face forward this summer. Skin procedures like facial peels and Intense Pulsed Light (IPL) treat uneven skin tone, hyperpigmentation, dryness, redness and discoloration while Botox and dermal fillers soften the appearance of wrinkles and fine lines without surgery or extensive recovery time.
To discuss your summer body goals with our plastic surgeon, schedule a personal consultation. Contact Dr. Benchetrit's Montreal practice by calling 514-613-4913 or emailing us today.