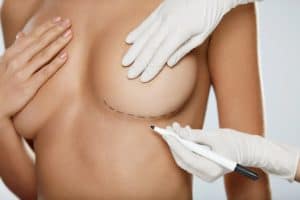 Breast augmentation is a very popular yet highly personalized cosmetic procedure. An experienced plastic surgeon like Dr. Arie Benchetrit will tailor his technique to your needs, goals and expectations. He will also thoroughly discuss breast implants choices with you and help you choose the type, size and shape that you feel most confident with.
Here, he explains everything you need to know about breast implants.
Size
One of the first factors to consider when choosing your breast implants is size. The best implant size for you depends on various factors, including your anatomy and personal preferences. Your lifestyle is also something to consider when choosing breast implant size. If you are physically active, you may want to consider more modestly sized breast implants over excessively large ones, as the latter may interfere with exercise.
During your initial consultation, Dr. Benchetrit will take measurements of your breast size and position, nipple position and chest wall to help you determine the best implant size for your body proportions. You will then be able to try on actual implants with a sports bra to see what the different sizes look like on you in the mirror. Finally, using our sophisticated Vectra 3D photo system, you will actually be able to see a simulation of the results of your surgery, using different implant sizes and types.
Type
There are two types of breast implants: silicone gel and saline (salt water). Each has its own advantages and disadvantages. Some women prefer the look and feel of silicone gel over saline as the material closely mimics natural breast tissue. This is why silicone gel implants are the choice of the vast majority of patients. However, every woman has their own preference and idea on which breast implant type looks and feels the most natural to them. Dr. Benchetrit will go over the pros and cons of each type of implant to help you make an informed decision.
Shape
Breast implants are either round or teardrop shaped. Round implants have equal projection on the upper and bottom poles of the breast while teardrop shaped (also known as anatomically correct implants) have more projection on the bottom pole, mimicking the slope of natural breasts. All teardrop-shaped implants are textured, and because of the recent controversy regarding the link between textured implants and lymphoma. Dr. Benchetrit is following the Health Canada guidelines and is no longer using textured implants.
Placement
Breast implants can be placed either above or below the pectoralis muscle. For most patients who have small breasts (A or small B cup), the usual preference is to place the implant below the muscle as it camouflages the implant well and gives it a more natural slope. In patients who have a naturally larger breast (medium B cup or larger), tuberous breasts or breasts with mild sagging, placing the implant above the muscle can often be a good option. Dr. Benchetrit will make his recommendation on this issue after examining you and discussing the pros and cons of each option.
To learn more about breast augmentation, please schedule a personal consultation with Dr. Benchetrit. Contact his Montreal plastic surgery practice by calling 514-613-4913 or emailing us today.