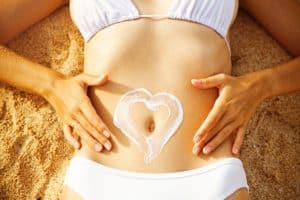 Choosing to undergo mommy makeover can be an exciting step towards reclaiming your pre-baby body. Understandably, you may be feeling some anxiety about undergoing surgery. To help ease your nerves and make informed decisions about your mommy makeover treatment, Montreal plastic surgeon Arie Benchetrit, MD discusses important questions to ask during your mommy makeover consultation.
Am I a Good Candidate?
A mommy makeover most often describes a combination surgery that corrects both the breast shape and/or size as well as the abdomen and flank regions. This can be a potentially life-changing procedure, but not everyone is a suitable candidate. The best candidates for a mommy makeover are women who are in good general health, do not smoke and whose weight is stable. The goal is to minimize the risk of complications during and after surgery while achieving beautiful and long-lasting cosmetic results.
The timing of a mommy makeover is also important in prolonging results. It is recommended that you wait to have a mommy makeover until after you are fully healed from pregnancy and at least three months after having stopped nursing. It is also best to do this surgery after you are done having children as further pregnancies can negatively affect the esthetic results.
Which Procedures Are Right for Me?
If you've begun researching mommy makeovers then you likely know that not every one of these involves the same cosmetic procedures. A mommy makeover is a highly personalized surgery and the right procedures for you will depend on your cosmetic needs and goals. Your surgeon will discuss all options with you, which include the following:
Tummy tuck to remove excess skin and fat on the abdomen and to repair weakened or separated abdominal muscles
Liposuction to eliminate pockets of surplus fat on the abdomen, waist, hips, buttocks, thighs, back and/or chest area
Breast augmentation (with silicone gel or saline breast implants) to add shape and volume to small or deflated breasts
Breast lift to reposition saggy breasts, reduce stretched out areolas and correct downward pointing nipples
What Will My Results Look Like?
Viewing before-and-after photos of your surgeon's past patients is a good starting point in understanding what results to expect from a mommy makeover. However, results vary patient to patient. Dr. Benchetrit is one of the few plastic surgeons in Canada to utilize the Vectra 3D imaging system. This innovative technology takes high-quality 3D photos of the breasts and simulates the results of the proposed treatment on a computer screen. If breast implants are to be placed, Dr. Benchetrit can show you how different implant types and sizes will look on you using this advanced technology. The Vectra 3D system is an invaluable tool that allows you to "preview" your results and help you make more confident decisions about your mommy makeover.
How Long Will Recovery Be?
The initial recovery period for mommy makeover can take between one and two weeks, depending on the specific procedures involved and the patient's personal healing progress. Normal activities, including work and exercise, will be off limits during your initial recovery. Your surgeon will provide you with a detailed list of post-op instructions and guidelines to follow for a safe and quick recovery.
Dr. Benchetrit can answer all of your mommy makeover questions during a personal consultation. To schedule a personal consultation with our Montreal mommy makeover surgeon, please call 514-613-4913 or email our office today.