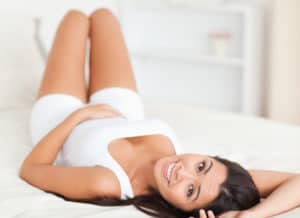 Liposuction is considered the gold standard of body fat reduction. However, it is not the only way to smooth bulges and create a more attractive shape. CoolSculpting is a non-surgical alternative to liposuction surgery that is gaining popularity among Dr. Arie Benchetrit's patients. While you may qualify for both treatments, it can be difficult to determine which is better for your needs and goals. To help educate you about the options, Dr. Benchetrit compares liposuction to CoolSculpting here.
How Liposuction Works
Liposuction is usually performed on an outpatient basis with general anesthesia. Dr. Benchetrit makes small incisions in the treatment area and inserts a hollow tube called a cannula. Moving the cannula back and forth, he loosens the fatty tissue. Then, the fat is removed with suction. In some procedures, special fluid is injected into the fatty tissue to make it firmer and easier to remove (this technique is known as tumescent liposuction).
After surgery, the treated area is usually bruised, swollen and tender. However, most patients can return to work within 2 or 3 days and can resume exercise and sports after one week. Results are immediately apparent but not complete until all the swelling is resolved, usually after several weeks.  Once the fat has been removed, it should not return to the treated area.
While there are risks with all surgical interventions, liposuction is generally a safe and predictable procedure when done by an experienced plastic surgeon. Be sure to ask your surgeon for his/her qualifications and experience with this surgery as many doctors who are not plastic surgeons perform liposuction in their clinics.
Advantages of Liposuction
More comprehensive fat reduction
More precise contouring
Results are noticeable almost immediately after surgery
Predictable, long-term results
Disadvantages of Liposuction
Surgical operation that requires recovery
Requires anesthesia
May leave scarring or irregularities, especially if done by a non-experienced MD
More expensive
How CoolSculpting Works
CoolSculpting is based on the knowledge that fat dies when exposed to freezing temperatures, and the body can naturally eliminate the fat cells as waste.
During a CoolSculpting procedure, Dr. Benchetrit's staff will draw up the bulge of unwanted fat between the panels of the treatment handpiece, which looks like a large suction cup. The cooling panels numb the area and freeze the fat cells without harming the skin, muscles or nerves. The whole procedure takes one hour and there is no discomfort during the treatment – most patients just relax and read a book, listen to music or use their iPad!
After treatment, patients can immediately return to their normal routine. No downtime is required. The treated area may be slightly red and numb, but other side effects are rare. Gradually, the body metabolizes the damaged fat cells and filters them through its waste removal process. Most patients only require a single treatment for a given area although some may opt for a second one for an even better outcome.  Results are visible in as little as four weeks and, as with liposuction, the fat does not return.
Advantages of CoolSculpting
Non-invasive
No downtime or significant side effects
Fewer risks
Less expensive
Disadvantages of CoolSculpting
Does not produce as dramatic a result as liposuction and results not as predictable
Treating several areas of the body can take much longer than liposuction
May rarely cause surface irregularities
Find the Treatment that's Right for You
Neither liposuction nor CoolSculpting is a perfect procedure, but both can produce noticeable fat reduction results. Dr. Benchetrit can evaluate your treatment needs and goals and recommend the best fit for you. To schedule a liposuction consultation with the doctor, please call 514-695-7450 or send us an email. You can also ask for a free CoolSculpting consultation with one of our medical estheticians or nurses.