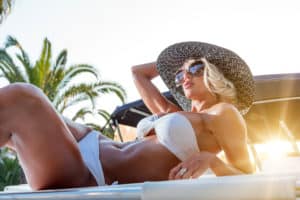 If you're planning a tropical vacation (or even a trip to the pool!) this summer — yet you feel hesitant about the way you look in a swimsuit, Dr. Arie Benchetrit can help. Our Montreal plastic surgeon offers a variety of procedures to reduce unwanted fat, tighten loose skin and enhance your bikini body.
Some of these procedures are non-surgical and do not require a lot (or any) downtime. And with summer just around the corner, time is of the essence. Here are some of the non-surgical body contouring options available with Dr. Benchetrit:
UltraShape V3 for the Reduction of Unwanted Fat
Considered to be one of the safest and most effective fat reduction technologies, UltraShape V3 reduces areas of unwanted fat without anesthesia, incisions or a long recovery. Ultrasound and radiofrequency energy are used to break down the fat, which is then naturally filtered from the body. A series of up to three treatments may be needed to achieve the desired results. After a treatment, you can immediately return to work, exercise and your normal routine.
VelaShape for the Treatment of Cellulite
Embarrassed by lumpy, puckered skin on your thighs or buttocks that resemble an orange peel? Traditional fat reduction systems won't help. There is a technology developed specifically to treat cellulite. Through a combination of infrared light and radiofrequency energy, VelaShape destroys the fat pockets and loosens the fibrous bands that trap fat to reduce the puckered look of cellulite. A series of four to five treatments may be needed to achieve the desired results. Luckily, there is no downtime needed after treatment.
Thermage for the Correction of Sagging Skin
Is your body slender but your skin lacking good tone? Thermage is designed to non-surgically improve the skin tone, texture and tightness on the abdomen, knees, thighs, arms and buttocks, as well as the face and neck. It uses radiofrequency energy to heat up and contract the existing collagen matrix and stimulate the production of new collagen in saggy areas. Results can be seen after a single treatment and there are no side effects or downtime.
Speak with Dr. Arie Benchetrit
If you would like to meet with Dr. Benchetrit and discuss your body contouring needs and goals, please request a consultation today. For non-surgical treatments, you can also request a free consultation with one of our medical estheticians or nurses.  Call us at 514-695-7450 or send us an email.