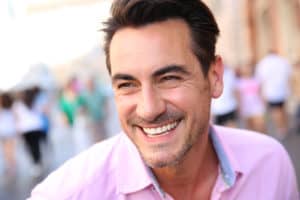 Statistics show that plastic surgery for men is on the rise, with more men discovering the remarkable anti-aging benefits of procedures like facelifts and necklifts. Surprisingly, male patients of Dr. Arie Benchetrit tend to prefer necklifts to facelifts. In this month's blog post, the Montreal plastic surgeon explains why.
Targets the Primary Area of Concern
Men are usually more concerned about the appearance of the jawline and neck than the upper portion of the face or the eyes. Also, the neck may age faster than the upper face. As the neck ages, the skin loosens, the muscles become lax and fat accumulates underneath the chin. The neck looks fleshy, and can resemble a "turkey wattle." A neck lift improves not only the neck, but also the jawline and the area right underneath the chin (i.e., a "double chin). It refines the jawline so it looks stronger and more classically masculine and, on profile, gives the neck a desirable angled look rather than an oblique slope.
Results Can Be Quite Dramatic in a Positive Way
Tightening the skin and removing excess fat deposits from the neck and underneath the chin can have quite a noticeable and positive effect on the rest of the face. Neck lift patients are often told they look as though they lost weight. A well-defined neck and jawline also gives an impression of youthfulness and good health.
By avoiding the face and focusing only on the neck and chin, there is no chance of overcorrecting and feminizing the face. Sometimes a bad facelift can leave the eyes looking surprised or artificial — just look to Hollywood for examples of men that have had bad facelifts and look slightly feminine.
Reasonable Recovery
Facelift surgery requires a week or two of recovery, and bruising, swelling and soreness are very common during the initial healing phase. Necklift recovery is shorter and the side effects are not as significant. There is generally less swelling, bruising and discomfort. Patients are normally able to return to work after five to seven days.
Scarring Is Naturally Concealed
Facelift incisions can be challenging to place in a well-concealed area on a man. Since most men don't have long hair, the incisions cannot be hidden by the hair, like they are in women's facelift surgery. However, necklift incisions are very small and usually placed right behind the earlobes and underneath the chin — locations that are not normally visible. Therefore, visible scarring is not as much of a concern with a necklift as it may be with facelift.
Talk to Dr. Benchetrit about Your Plastic Surgery Options
Dr. Benchetrit would be happy to sit down with you to discuss your particular area(s) of concern and goals of treatment. If you would like to schedule a consultation with the experienced plastic surgeon, please call 514-695-7450 or send us an email.