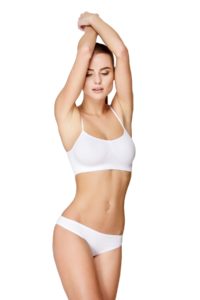 An hourglass figure — which entails a narrow waist, voluptuous buttocks, and full bust with similar measurement to the hips — is considered by many people to be the most desirable and attractive female body shape. While some women are lucky enough to be born with an hourglass figure, not everyone is so lucky. Fortunately, Montreal plastic surgeon Dr. Arie Benchetrit offers a number of cosmetic procedures to achieve this specific body shape. Read on to learn more about them.
Liposuction and Tummy Tuck for a Defined Waistline
Liposuction and tummy tuck are two procedures often performed together to create a slim abdomen and narrow waist. Tummy tuck eliminates excess skin and tissue on the abdomen and sutures the underlying abdominal wall for a firmer and flatter tummy. Liposuction can be performed on the waist and abdomen to sculpt the midsection and create the ideal hourglass waistline.
Breast Augmentation for a Voluptuous Chest
A large or full bust accentuates a slim and narrow waistline. With breast augmentation, Dr. Benchetrit places either saline or silicone breast implants to create a more attractive breast size and appearance.
Butt Augmentation for a Curvier Buttocks
A shapeless, small or flat buttocks doesn't offer any curves or projection to complement the waist and breasts. Thus butt augmentation can be performed to add fullness and shape to the backside and accentuate an hourglass figure. Butt augmentation can be performed using a number of techniques. The first is with silicone implants, which are available in different shapes and sizes to cater to the diverse needs of patients. The second technique involves lifting the tissues and removing loose skin to elevate the backside. This technique is called butt lift and it enhances the curve of the buttocks. A third option is to use the patient's own fat from one body area (such as the abdomen or back) to augment the buttocks. Commonly known as Brazilian butt lift, this technique is a very appealing option for women who want to simultaneously lose fat on the waist and enhance the shape and size of the buttocks.
To learn more about the cosmetic procedures Dr. Benchetrit offers, schedule a personal consultation. Contact our Montreal office by calling 514-613-4913 or emailing us today.