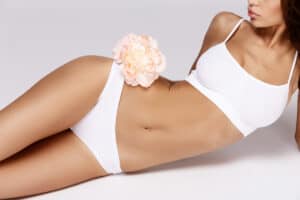 In his many years of practice, Dr. Arie Benchetrit has helped patients achieve their aesthetic goals through both surgical and nonsurgical options. A common aesthetic concern for many patients is loose skin. Dr. Benchetrit understands that loose skin has many causes and, as such, offers a variety of treatment options to meet the individual needs of his patients. Below Dr. Benchetrit discusses the various ways that patients can choose to tighten their skin without surgery.
VelaShape
Dr. Benchetrit primarily uses the VelaShape device to reduce cellulite and smooth "problem areas," such as the thighs, buttocks, hips and abdomen. However, the benefits of the VelaShape device go beyond cellulite reduction, and it can also be used as a nonsurgical option to tighten skin.
Vulvar Rejuvenation – Injections
Over time, all parts of the body can experience laxity and deflation. In women, this includes their labia majora (the outer lips of the vagina). Dr. Benchetrit can help patients address loose skin of the labia majora with a "Labial Puff" procedure. This procedure is done by injecting fillers or fat under the skin of the labia majora. These filler or fat injections help to puff up the skin and create a smoother and tighter appearing labia majora.
Plus 90
Plus 90 is a nonsurgical treatment used to improve certain feminine health concerns, such as a loose vaginal canal, discomfort with intercourse or urinary incontinence. The Plus 90 treatment utilizes targeted radiofrequency energy to both shrink and firm vaginal tissue.
Thermage
Age, weight loss and pregnancy can all result in lax skin. Thermage employs radiofrequency energy to tighten skin in many areas of the body, including the abdomen, knees, thighs, arms, hands and buttocks. An added benefit of Thermage is that it also stimulates the skin's collagen production, which results in a firmer appearance.
Morpheus8
Morpheus8 is a skin treatment that combines microneedling with radiofrequency energy. Its numerous benefits include skin tightening and smoothing. While Morpheus8 can be used on almost any area of the body, it is most commonly used to tighten the skin of the face, abdomen, thighs, knees and buttocks.
Schedule a Consultation Today
There are many nonsurgical treatment options to tighten skin. The best way to find out what nonsurgical treatment option is right for you is to meet with Dr. Benchetrit in person for a consultation. Dr. Benchetrit will listen to your concerns and desired aesthetic goals, evaluate your current health and offer his treatment recommendation.
To request a consultation with Dr. Benchetrit, please call or email our office today.