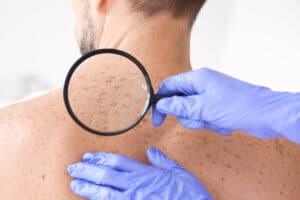 How to improve sunspots is a concern for many people.  Skin discoloration also has many causes, from birthmarks to skin conditions, sun exposure and natural aging. An uneven skin tone is frustrating for men and women and can be challenging to improve through skin care alone. Dr. Arie Benchetrit in West Island offers laser treatments for sunspots and pigmentation concerns.
Finding the Right Treatment with Vectra 3D Photography
This revolutionary technology takes 3D images of the face and neck to find skin areas with sun damage, vascular lesions and pigmentation changes. The Vectra system then simulates the results of your chosen laser treatment to help you visualize the outcome and make the best decision.
Treating Sunspots with Fraxel Skin Rejuvenation
The Fraxel fractionated laser treatment takes 30 to 60 minutes with a few days of downtime. Fractionated lasers offer excellent results with less downtime than classic lasers because they focus on a fraction (15% to 20%) of the skin. Fraxel treatments remove poor-quality skin cells from the surface layers and promote rapid production of new collagen and fresh, healthy skin tissues.
This laser treatment improves age spots, sun damage, melasma, wrinkles and acne scars on the face, neck, chest or hands.
Intense Pulsed Light (IPL) Treatments for Hyperpigmentation
IPL therapy involves a 20-minute outpatient treatment with no downtime afterward. This technology targets pigments in the skin with multiple wavelengths of pulsating light. IPL treatment targets skin discoloration, including brown spots, rosacea and spider veins in the face, chest, hands and neck.
Reduce Skin Discoloration with Photodynamic Therapy
Photodynamic therapy (PDT) uses a photo-chemical agent called Levulan on the skin, which targets and holds onto cells that produce melanin and cause age spots. Levulan is activated by the IPL laser or a special blue light that destroys the pigmented cells. PDT is highly effective and requires a few days of recovery as the face will be red and swollen. This treatment has strict recovery instructions to avoid sun exposure for at least 24 hours.
Improve Skin Tone and Texture with Morpheus8
Morpheus8 combines radiofrequency (RF) energy with microneedling. The outpatient procedure takes up to an hour and a half with several days of recovery. A handheld device with gold-plated needles emits RF energy while creating micro-injuries in the skin to stimulate the body's natural healing response. RF energy shrinks existing collagen for firmer skin and increases collagen production in the deeper tissues. Morpheus8 can improve hyperpigmentation and scars.
If you struggle with skin discoloration, there are many ways to improve your cosmetic concerns. Contact Dr. Arie Benchetrit in West Island, Montreal, for a free consultation at (514) 700-5189.