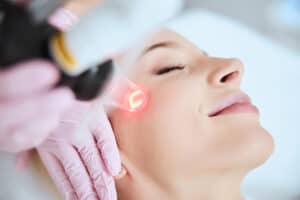 Lasers offer transformational benefits for people with moderate to severe skin concerns, such as facial scarring and deep lines and wrinkles. These technologies work in different ways to improve skin texture and tone, offering a wide variety of benefits without the downtime of invasive facial plastic surgery. Dr. Arie Benchetrit and his experienced team have over 25 years of experience with laser treatments and will match you with the technology that will best accomplish your cosmetic goals.
Ablative Vs. Non-Ablative Laser Technologies
Ablative lasers are the most aggressive and include carbon dioxide (CO2) and erbium laser technologies. These treatments remove the epidermis (outer layer of skin) and heat the underlying dermis (deeper skin tissues) to stimulate healing and collagen growth. Ablative lasers typically provide excellent results that improve skin firmness and texture but require weeks of downtime and come with more risks than less-intensive technologies.
Non-ablative lasers, such as YAG and intense pulsed light (IPL), stimulate collagen growth also, but they don't remove the thin outer layer of skin. Instead, non-ablative lasers heat the skin tissues to promote healing and cell turnover. Non-ablative lasers provide noticeable results with minimal side effects and downtime.
Both laser types can work with a fractional laser that forms tiny columns in the treated area to create visible results without damaging the surrounding tissues. Fractional laser treatments shorten recovery time and may pose fewer risks with ablative lasers.
These lasers can improve fine lines and wrinkles, uneven skin tone or texture, loose skin, age spots, sunspots, acne scars and other concerns on the face and body.
Dr. Benchetrit also offers radiofrequency-based treatments, such as Thermage and Morpheus8, that work to tighten skin with energy instead of laser light. Some of his popular laser technologies include:
Fraxel Skin Rejuvenation: Laser skin resurfacing offers the best results for moderate to severe concerns using a traditional ablative laser for deep acne scarring, sun damage, melasma and wrinkles.
IPL Therapy: Intense pulsed light treatments work well for hyperpigmentation. The light targets and removes specific pigments, damaged skin cells or hair follicles on the face, neck, chest and hands. IPL can improve rosacea, varicose veins, port wine stains, freckles, broken capillaries and age spots.
Laser Scar Resurfacing: A non-ablative treatment that uses the Erbium-YAG laser to address visible scarring. This technology improves skin texture and tone for scars caused by previous injuries, surgery, acne and keloid or contracture scars. Laser scar resurfacing reduces skin discoloration and irregularities.
Some people are apprehensive about laser treatments and have concerns about potential results and risks. Dr. Benchetrit uses the Vectra 3D photography system to address your questions and provide a preview of what your laser treatment results may look like after the skin heals. The Vectra system simulates outcomes using images of the patient's face and neck.
If you struggle with skin texture or tone concerns, schedule a consultation with Dr. Benchetrit to discuss laser treatments. Contact his Montreal and Pointe Claire, Quebec, offices at (514) 700-5233.