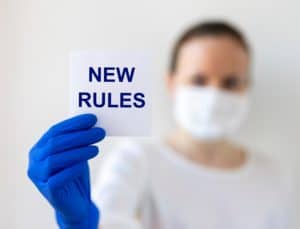 Dr. Arie Benchetrit and our team are happy to announce that our practice has re-opened for in-office consultations and treatments, and we are scheduling plastic surgery procedures.
Due to the COVID-19 pandemic, things might look a little different when you come in for your consultation, in-office treatment or surgical procedure. But while some of our office protocols have changed, our commitment to patient safety and health has not. Your well-being is our foremost priority, and we are taking special precautions to keep you safe when you visit us.
Rest assured that none of the new safety precautions will detract from the personalized, quality care you have come to expect from us. We are as devoted as ever to your satisfaction.
We hope that by sharing some of our new safety measures and protocols, you will feel confident and secure returning to our office.
New Safety Protocols
We are following the strictest guidelines developed by public health authorities and professional plastic surgery associations.
Office Protocols
We have increased the frequency of our office cleaning and disinfecting practices.
Our office staff is outfitted with personal protective equipment, including surgical masks, face shields, goggles, gloves and gowns. We are maintaining sufficient stock in the necessary supplies and equipment.
We have adjusted our schedule so there is never more than one patient at a time in our waiting room or an examination room. This limits your contact with other patients.
If there is a rare overlap in scheduling, we will ask you to allow ample space for social distancing in the waiting room; or, we may ask you to wait outside in your car or a safe area until we are ready for you.
Only patients are permitted in our office; we ask that other visitors wait in the car or outside.
In between every appointment, our team disinfects and sanitizes all chairs, counter surfaces and floors.
Surgery Protocols
All surgical procedures are being performed in a non-hospital-based, private operating room to avoid exposure to hospital facilities and potentially infected patients.
Whenever required, we are testing patients and staff prior to surgery.
During surgery, every team member wears personal protective equipment.
We are asking patients and staff to respect social distancing guidelines while in the surgical waiting room and recovery room.
We Look Forward to Welcoming You Back
We ask you to please help keep yourself and our staff safe by practicing social distancing inside our office and rescheduling any appointments if you become ill or have been in contact with someone with COVID-19.
If you have any questions about our new safety protocols, please contact a member of our team today.