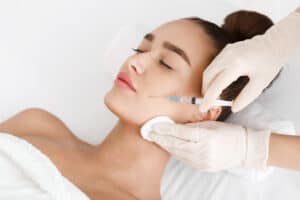 Facial fillers are an effective way to reduce pesky signs of aging, including volume loss and lines and wrinkles. Adults of all ages come to our Montreal and Pointe Claire offices to achieve a smoother, fuller facial appearance with injectables. Each facial filler offers unique benefits, and the right one for your needs depends on your cosmetic concerns. Dr. Arie Benchetrit can match you with the filler that will deliver your desired results.
Hyaluronic Acid Fillers
Juvéderm and Restylane are facial fillers made with hyaluronic acid. This substance is found naturally in your skin and binds to moisture, but hyaluronic acid slows down with age, along with collagen and elastin production. Juvéderm and Restylane address skin depressions and lines and wrinkles by adding volume to the skin for a more youthful facial contour. These injectables offer immediate results with no downtime and may last six months to a year or longer, depending on the facial area and type of cosmetic concern.
Juvéderm and Restylane facial fillers may treat:
Acne scars
Wrinkles around the eyes (crow's feet)
Deep nasolabial folds (smile lines)
Cheek depressions
Frown lines between the eyebrows (worry lines)
Facial scarring
Smoker's lines around the mouth
Forehead lines
Under-eye hollows
Lip definition and volume
Radiesse Facial Filler
Radiesse is a different type of dermal filler made with a substance found naturally in human bones called calcium hydroxylapatite (CaHA). This injectable is formulated with a biosynthetic version of CaHA and offers natural-looking, immediate results that last a year or longer. The natural composition of Radiesse lowers the risk of allergic reactions and requires no downtime.
Radiesse may treat:
Moderate-to-severe nasolabial folds
Marionette lines stretching from the lips to the chin
Vertical wrinkles between the brows (frown lines or 11s)
Loss of volume in the cheeks and other facial contours
Jawline definition
Oral commissures around the mouth
Chin wrinkles
Sculptra
Sculptra is a longer-lasting facial filler made with poly-L-lactic acid, a synthetic substance that jumpstarts collagen production. The biodegradable compound has been used in medicine for sutures for more than four decades. It works as a collagen replacement and stimulator to rebuild the cellular framework in the treated area. Sculptra doesn't provide quick results like other fillers but offers gradual, youthful results that allow for more inconspicuous improvements over time. This filler is a semi-permanent injectable with results that may last up to two years.
Sculptra works well for the lower face, including:
Thin lips
Laugh lines
Deep nasolabial folds
Chin wrinkles
Marionette lines
Selphyl
Selphyl provides a different way to improve skin imperfections on the face and is not the typical facial filler. This treatment uses your body's natural healing process to stimulate tissue regeneration and improve skin texture and thickness. Selphyl involves taking a blood sample from you and separating the components of the blood to isolate platelets and fibrin (platelet-rich plasma, or PRP) and re-inject them into the treated area. There are fewer risks with Selphyl than with some fillers because the treatment uses your own blood, so there's no risk of an allergic reaction, and results may last two years or longer.
Selphyl may be used to treat these cosmetic concerns:
Tear troughs
Necklines
Crow's feet
Skin depressions
Fine lines in the chest area
Dr. Benchetrit is one of the few plastic surgeons who utilize the Vectra 3D Photography system that simulates your potential results using 3D photos of the targeted area. He will match you with the filler that fits your needs. If you're interested in facial fillers, contact Dr. Arie Benchetrit in Montreal or Pointe Claire, Quebec, at (514) 700-4905 to schedule a consultation.