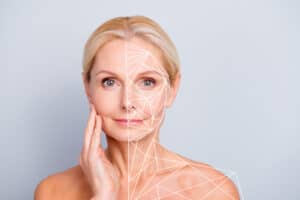 Natural aging causes many skin changes, and weight loss can exacerbate the appearance of loose skin and lines and wrinkles. As you get older, your skin tissues produce less collagen, elastin and hyaluronic acid, and these compounds are responsible for youthful, taut and supple skin. Many adults struggle with loose, sagging skin and wrinkling as they get older and gain or lose weight, but Thermage and Ulthera are non-surgical treatments that can tighten the facial tissues for a younger complexion.
Dr. Arie Benchetrit in Montreal and Pointe Claire is at the forefront of non-surgical treatments that rely on advanced technology. Thermage and Ulthera stimulate skin changes that tighten the skin. There is no downtime with these treatments, which are far less invasive than surgical procedures such as facelift or eyelid surgery.
Thermage
Thermage heats the deep skin layers using radiofrequency (RF) energy. RF energy shrinks collagen fibers in the skin while stimulating the production of new collagen for tighter skin that continues to improve long after treatment. Thermage works well for the eyelids to reduce a hooded upper eyelid or saggy, puffy lower eyelids. The therapy is also used for "turkey neck," jowling, fine lines around the eyes and between the brows and other areas of loose, saggy skin on the face. Thermage may improve jawline definition and smoothen the skin around the mouth and nose by tightening the cheek area.
Treatment with Thermage requires no anesthesia and typically takes 45 to 90 minutes to complete. Our medical esthetician or nurse uses a handpiece that emits RF energy, alternating hot and cool temperatures with gentle vibrations. Patients often report little to no discomfort and can resume their routine immediately. Thermage has minimal side effects, such as mild swelling or redness that dissipates quickly.
Patients may notice immediate skin tightening benefits after Thermage treatment that improves for up to six months as the body regenerates collagen and may last up to two years.
Ulthera
Ulthera tightens skin using ultrasound wave technology that heats the skin and underlying tissues. This treatment promotes taut skin similarly to Thermage, shrinking collagen fibers and stimulating new collagen to form in the treated area. Ulthera works for various areas of the face and brows and improves facial definition by smoothing lines and wrinkles and tightening the skin around the nose, mouth, cheeks, jaw, chest, neck and eyelids.
Like Thermage, treatment with Ulthera takes 45 to 90 minutes and may leave patients with mild swelling, redness or numbness. Generally, patients can go back to work or their daily routine right away. Dr. Benchetrit or another team member may advise pre-treatment with Advil or Tylenol to reduce discomfort during Ulthera treatment. The session involves a handpiece maneuvered over the area that emits ultrasound waves, causing a hot, tingling feeling.
Ulthera provides immediate results that improve for several months while the body increases collagen production and may last 18 to 24 months, like Thermage.
Dr. Benchetrit takes pride in offering the latest cosmetic treatments and has treated countless patients with Thermage and Ulthera. He is often consulted by other physicians and the makers of these technologies to discuss their use and results.
If you struggle with loose facial skin, contact Dr. Benchetrit in Montreal or Pointe Claire, Quebec, at (514) 700-4905 to schedule a consultation and learn more about Thermage and Ulthera.