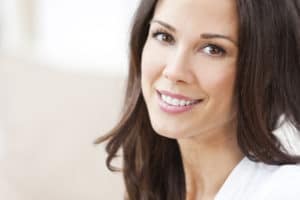 Did you underestimate what it would take to protect your face from the sun's rays, and now have visible signs of sun damage? Or, are you diligent with sun protection now, but paying for the sins of your youth when you weren't so careful? Either way, Dr. Arie Benchetrit can help. As a trusted Montreal plastic surgeon, Dr. Benchetrit offers a variety of treatments to rehabilitate sun-damaged and overexposed skin and restore beauty to the face. Here, he explains some of the available options.
Laser Skin Resurfacing with Fraxel
Skin resurfacing with the Fraxel laser is one of the most effective ways to minimize signs of sun damage, including spots, wrinkles and other flaws. Fraxel treatment can be performed on the face, as well as the neck, chest and backs of the hands. During a fractional laser skin resurfacing treatment, laser energy penetrates the sun-damaged skin and creates tiny wounds in the deep layers of the skin in a special pattern, leaving areas in between the wounds untreated. The body activates its natural repair processes and replaces the damaged skin cells with healthy cells. Because the wounds only affect a fraction of the skin, the skin heals quicker than it would if uniformly wounded.
Photodynamic Therapy
Photodynamic therapy is another excellent way to reverse moderate to severe signs of sun damage, such as wrinkles, brown spots and thinned skin. During a photodynamic therapy session, a topical photosensitizing agent and special light are combined to destroy targeted cells like the cells that produce melanin (pigment). Spots temporarily darken and then peel off, leaving the treated area looking smoother, healthier and more youthful.
Nourishing Peel
If your skin feels dry and dehydrated after the summer months, a nourishing peel may be just what you need. During a peel, a special topical solution is applied to the skin to cause dull, damaged surface cells to slough off. This improves the tone and texture of the skin.
The special SilkPeel Dermalinfusion system, available at our practice, provides extra hydration and nourishment for a radiant complexion and skin that is smooth to the touch. One of Dr. Benchetrit's skin care specialists can advise whether the SilkPeel or another peel is best for your sun-damaged skin.
Learn More about Your Treatment Options
To speak with Dr. Benchetrit and our team about your skin care needs and goals, please contact our practice and schedule a personal appointment. Call 514-695-7450 or email us today.