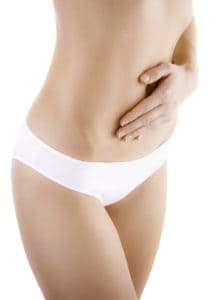 If eating healthily and exercising regularly are not giving you the flat and toned abdomen you desire, then tummy tuck may be the solution. Also known as abdominoplasty, tummy tuck addresses the loose skin, tissue and muscles responsible for that flabby and unflattering abdominal appearance so many patients complain of.
Potential patients are encouraged to research the procedure as thoroughly as possible in order to know what to expect. In this blog post, Dr. Arie Benchetrit shares five things to know before considering tummy tuck.
Your Weight Must Be Stable
The best candidates for tummy tuck (and plastic surgery in general) are individuals with a stable weight, even if it's more than the ''ideal'' weight. If you have recently lost a substantial amount of weight, you should consider tummy tuck surgery only after your weight has stabilized.
Liposuction May Be Combined with Tummy Tuck
The primary goals of tummy tuck are to eliminate loose, excess skin and stretch marks, remove excess superficial fat and tighten the abdominal muscles that have separated due to pregnancy or weight gain. Visceral fat, which is deep in the abdomen and surrounds your bowels and other organs, is not removable and can only be lost via diet and exercise.  If you are also bothered by the appearance of bulges of fat on the ''love handles,', back or thighs, your plastic surgeon may recommend combining tummy tuck with liposuction. Liposuction targets fat deposits that cannot be eliminated via diet and exercise alone. Many patients benefit from combining the slimming effects of liposuction and the tightening and toning effects of tummy tuck.
You Must Plan Enough Time to Recover
A tummy tuck is not a minor operation. You should plan on taking at least two weeks off of work and your normal routine to recover from tummy tuck surgery. Rushing your recovery can lead to complications and could compromise the beauty of your results.
Scarring Is Inevitable
Because a tummy tuck involves eliminating loose skin from the abdomen, an incision will need to be made. In a traditional tummy tuck, the incision is created right above the pubic area, from hipbone to hipbone. This will result in a scar that can be concealed by most bikini bottoms or undergarments and that will usually fade gradually until it is barely noticeable.
Drains or No Drains?
Almost all tummy tuck techniques involve the use of drains, which are long, thin tubes that are left in the abdominal wound and come out through small holes made in the pubis. These drains are usually left in place for 10 to 14 days and sometimes longer. Their purpose is to prevent fluid (serum) build-up in the empty space that has been created under the skin. Unfortunately, drains are often a nuisance, uncomfortable and bulky as well as painful to remove. However, Dr. Benchetrit is one of the very few North American surgeons who perform their tummy tucks with no drains at all. This is possible because of a more meticulous technique that spares the lymphatic vessels normally removed in a traditional surgery. These lymphatic vessels act as natural internal drains and so there is no need to use synthetic plastic drains. As a result, the recovery is much easier and there is no dreaded drain removal! Be sure to ask Dr. Benchetrit about the details of his unique technique.
Full Tummy Tuck or Mini-Tummy Tuck?
Patients will often ask if it would not be better to do a mini-tummy tuck in order to have a lesser scar. A mini tuck is only done if the patient does not have enough skin laxity to do a full tuck. The results of a full tuck are much better than a mini, especially in firming up the skin of the upper abdomen so a full tuck is always the procedure of choice. The mini-tummy tuck scar is only slightly shorter than that of the full tuck and the recovery is the same. Your surgeon will explain the pros and cons of each option in detail and recommend which would be best for you.
Experience Matters
When performed by a qualified plastic surgeon, tummy tuck can produce long-lasting and beautiful results. In addition to being board certified, a plastic surgeon should have years of experience performing tummy tuck, as it ensures that they are knowledgeable in the latest surgical techniques. Experience also means the surgeon knows how to prevent and handle complications, should they arise.
To learn more about a tummy tuck, schedule a consultation with Dr. Benchetrit. Contact us by calling or emailing us today.